Piracy – Warship Frees Captives off Somalia Coast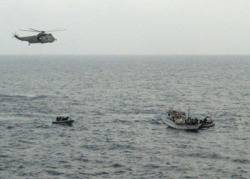 Pirates deprived of mothership dhow, crew freed, by Spanish warship
The EU Naval Force Flagship ESPS Patino located a Yemeni registered dhow that was suspected of being involved in acts of piracy off the Somali coast.
The previous day a merchant vessel had reported that it had evaded an attack by two skiffs. As she was close by, ESPS Patino was tasked to investigate the scene, and when her helicopter arrived, it located a capsized skiff, with suspected pirates embarking onto the Yemini dhow.
The dhow was confirmed as a suspected mother ship, previously observed at a pirate anchorage. Authorisation was given for a team from Patino to board the dhow. The 16 suspected pirates quickly surrendered to the EU Naval Forces and the 2 dhow crew members were freed.
After coordinating with Yemeni authorities, the dhow and the two crewmembers were safely handed over to Yemeni Coast Guard near Yemeni territorial waters in the vicinity of Socotra Island.
The suspect pirates, who no longer had the means to carry out attacks, were returned back to the shore.