Water levels in the Panama Canal are likely to remain exceptionally low for months despite forecasted short-term improvements, meaning no end in sight to the prolonged disruptions hampering vessels transiting the vital shipping artery.
The Panama Canal Authority earlier this year began imposing restrictions on daily vessel transit and maximum draft amid a prolonged drought that has lowered the water level, causing a backlog of vessels waiting to pass. The authority said last week it expects to maintain restrictions for at least 10 more months.
Isaac Hankes, senior weather analyst at London Stock Exchange Group, said the first seven months of this year have marked the driest start since 2015, which had similar rainfall rates. "This represents a departure from a long-term wetter trend as reflected by data from 1981-present."
"While the low rainfall rate itself is not historic in nature over the long-term, 2023 does show the largest decline in rainfall rate year over year on the record. This sudden drying after a wet 2022 is the likely culprit for the rapid drop in canal water levels," Hankes said.
Hankes said a slight improvement in rainfall over the past two months has helped to stabilize Panama Cana water levels after months of sharp declines, noting the rains have bot been enough to raise water levels or to lessen the drought. "A worsening scenario was simply avoided," he said.
Water levels are likely to remain exceptionally low for months ahead despite short-term improvements in the forecast.
"The forecast through the next two weeks does show a more significant period of high rainfall that could finally start to raise water levels in the canal. Unfortunately, high rainfall is likely to be temporary, as the second half of September is likely to feature widespread dryness once again across Panama. Furthermore, season forecast guidance through the end of the year suggests that dry weather could persist," Hankes said.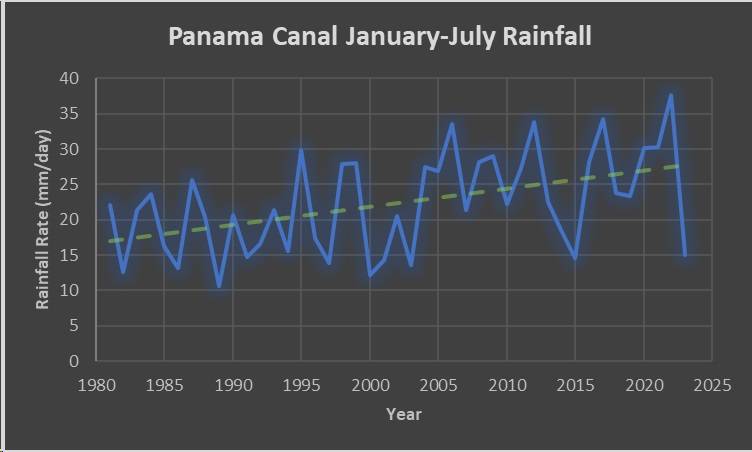 January-July averaged rainfall rate (mm/day) interpolated to the Panama Canal shows 2023 as the driest year through July since 2015, and as a sharp departure from the long-term trend (green dashed line) based on data from 1981-present. (Source: KNMI/CPC)