New Orleans Joins Cold Treatment Pilot Program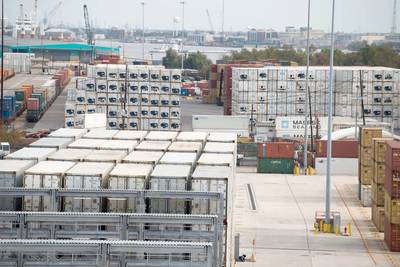 The Port of New Orleans announced a new opportunity for shippers looking to transport perishable cargo from South America. Port NOLA received approval by the U.S. Department of Agriculture for inclusion in the Southeast U.S. In-Transit Cold Treatment Pilot Program. Participation in the Animal and Plant Health Inspection Services (APHIS) pilot program means select time-sensitive products can be treated to meet customs compliance in-transit rather than after it arrives to the U.S. – resulting in shorter transit times and increased efficiency for shippers.
Prior to this program, refrigerated cargo had to flow through specialized treatment facilities in the Northeast U.S. to be cleared for distribution. With more than 900 refrigerated plugs available at Port NOLA's facilities, the Port is equipped to handle additional perishable cargo.
Cold treatment is a process whereby perishable fruits are brought to a certain temperature for a period of time as dictated by authorities to fulfill APHIS quarantine requirements targeting pests such as fruit flies.
The following commodities are included in this pilot:
Blueberries, citrus, and grapes from Peru
Blueberries and grapes from Uruguay, and
Blueberries, apples, and pears from Argentina.
New Orleans is well-positioned to grow in the refrigerated import sector with additional leverage coming from efficient rail connections to inland markets.

Port NOLA is the most recent Southeast U.S. port to be included in this pilot.

Port NOLA will partner with APHIS and the U.S. Custom and Border Protection Agency to implement this pilot.

• Argentina • Northeast U.S. • South America