Miami Delegation Returns to Port of Cape Town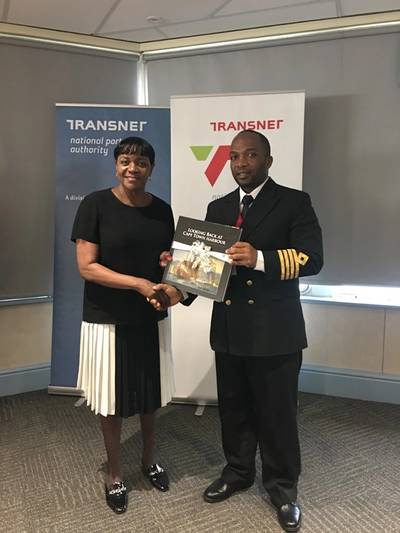 Transnet National Ports Authority (TNPA) welcomed a high-level delegation from the Miami-Dade County in the United States for a tour of South Africa's second busiest port, the Port of Cape Town, on Tuesday, March 26, 2019.
The visit formed part of the Miami-Dade Business Development Mission to South Africa from March 24 to March 27, 2019.
The Miami-Dade delegation was led by Ms Audrey M. Edmonson, Chairwoman of the Miami-Dade County Commission. She was joined by senior representatives of entities including Miami-Dade Aviation Department, Port Miami, Miami-Dade County's Office of Economic Development and International Trade (OEDIT) and Miami Downtown Development Authority.
TNPA and the Miami-Dade County enjoy an ongoing relationship which included the signing of an MOU in 2014 to collaborate on vital skills and training, internships and exchanges between Miami and South African ports. There have also been several visits to the port over the years.
Outcomes of the MOU to date include collaboration on cruise business best practices, expanding trade routes to and from Miami Port and capitalising on the African Growth and Opportunity Act (AGOA) opportunities from Cape Town.
The Port of Miami's largest exports to South Africa include machinery, vehicles, electronics and textiles, while South Africa's largest exports to Miami are metal, steel articles, textiles and live trees.
Miami is the closest US entry point into the key North American market. It is viewed as a world-class city, global gateway, logistics hub and cruise tourism capital of the world.
Meanwhile the Port of Cape Town – one of eight commercial and complementary ports along South Africa's nearly 3000 kilometre coastline – handles a variety of cargo, including fresh produce and South Africa's famous Cape wines for export. The port supports a vibrant fishing sector, a burgeoning off-shore oil and gas industry and provides ship repair services.
It is also one of two home ports serving the fast-growing cruise industry and attracting growing numbers of tourists. The V&A Waterfront was awarded a concession by TNPA for the development of the Cruise Terminal facility at E Berth, which is now at Phase three of its development.
TNPA's Cape Town acting Port Manager, Captain Alex Miya said the South African port authority was committed to exploring various ways in which to grow the relationship between the Port of Miami and the Port of Cape Town.
Other engagements during the Miami-Dade delegation's Cape Town visit included discussions with the City of Cape Town's Executive Mayor, Dan Plato, the City's International Relations Office, U.S. & South African Trade Officials, WESGRO and Business-to-Business matchmaking meetings with private sector participants.