Maersk Delivers Reefer Exports of Butter From India to Turkey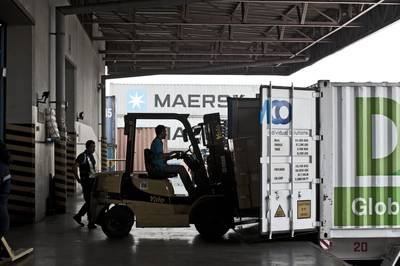 Maersk, a global integrator of container logistics, delivered it's first-ever shipment of butter from Bulandshahr, Uttar Pradesh (part of the Delhi National Capital Region) to Turkey.
Butter exporter VRS Foods exported an initial 6 containers of their brand, Paras Dairy Butter, through Maersk's First Mile Delivery reefer service which helps businesses with intermodal, customs clearance, and documentation needs to enable seamless trade.
This has opened up a niche cargo category encouraging the shipping of an array of commodities within the reefer segment.
Currently, exporters have been transporting this category of cargo from their factories directly to the ports and inland container depots (ICDs). The First Mile Delivery reefer service coupled with their Remote Control Management (RCM) solution, Maersk offered the exporter a one-stop solution in logistics. This has helped facilitate the ease of doing business and added more visibility to the exporter's supply chain. The temperature of the cargo in 40 high reefer containers, were monitored constantly from the Paras Dairy's factory throughout the road transportation as well as overseas transit through RCM and manually to ensure cold chain was maintained.
*Remote Container Management (RCM) leverages cold-chain technology to create full visibility into the conditions of the refrigerated cargo during transit
*First Mile Delivery refer service includes inland transportation via rail/road along with customs house clearance and other documentation procedures