Konecranes Delivers Cranes for Brazilian Port Expansion Project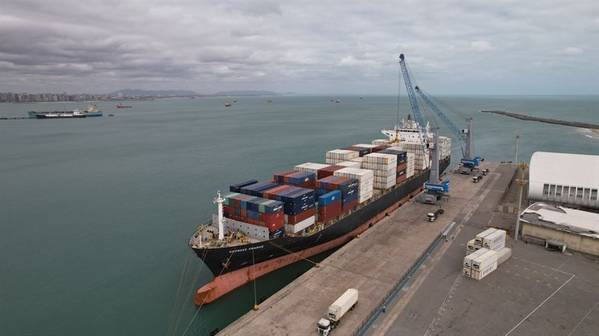 In August 2023, CMA TERMINALS Fortaleza received delivery of two Generation 6 ESP.8 Konecranes Gottwald Mobile Harbor Cranes for its terminal in northeastern Brazil. The cranes will be used to build local container handling operations as part of the first stage of a port expansion project.
CMA Terminals do Brazil, a Brazilian subsidiary of France's the CMA CGM Group, selected Konecranes' innovative Generation 6 mobile harbor cranes as part of a long-term development project to improve its container handling efficiency at the Port of Fortaleza, a regional transport hub.
"Highly efficient operations promote commercial development and increased revenues, strengthening the local economic and social infrastructure. Konecranes was able to offer us impressive technology that is sure to provide us with the fast and precise container handling we need to improve our productivity. We're looking forward to seeing just how quickly the cranes can make a difference," said Sergio Lima, CEO of CMA Terminals do Brazil.
"We've been providing ports equipment like RTGs and straddle carriers at other CMA CGM container terminals since 2005, but this is the first time they've ordered our mobile harbor cranes. We're confident that these new Generation 6 cranes will deliver strong, consistent and long-lasting performance as the company continues to extend their container handling operations," said Alfredo Canibano Ramos, Senior Sales Manager, Port Solutions, Konecranes.
The two new cranes are Generation 6 Konecranes Gottwald ESP.8 Mobile Harbor Cranes with a working radius of 54 m and a capacity of up to 150 t for vessels up to post-Panamax class. In Fortaleza, they will be used mostly for container handling, but they are flexible enough for project and general cargo if the need arises. A strong lifting capacity curve improves performance and a high classification doubles service life in container handling. The cranes use the Konecranes hybrid drive, which consists of a modern eco-efficient diesel engine paired with ultracapacitors that can recharge using energy recovered from lowering and braking motions. This gives the power needed for peak performance, while saving fuel on lighter loads.