Johnston Logistics Becoming Dachser Ireland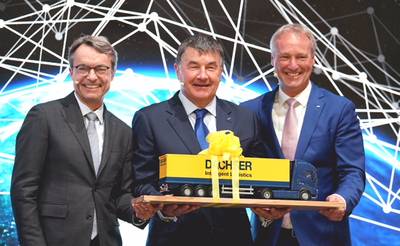 Dachser recently announced that newly acquired Ireland-based Johnston Logistics Ltd. will officially launch as Dachser Ireland Ltd. and be fully integrated into the Dachser network by September 2019.
Expanding its footprint into the Irish market further demonstrates Dachser's commitment to growing its network and having a presence in key markets throughout the world.
Dachser and Johnston Logistics have been partners since 2007. In 2017, Dachser acquired a majority stake in the company, one of the most important logistics providers in the Irish market. Since then, the two companies have gradually become increasingly integrated. In September, Johnston Logistics Ltd. will change its name to Dachser Ireland Ltd.
Operational integration complete
Dachser's yellow and blue trucks are already on the road in Ireland. Operational integration, including the migration to DOMINO and MIKADO, Dachser's proprietary IT systems for transport and warehouse management, took place back in February.