Interview: Toyohisa Nakano Discusses "K" Line Green Initiatives
Last year Kawasaki Kisen Kaisha, Ltd. ("K" Line) – one of the world's largest and most influential ship owners with 478 ships comprising 40.5 million DWT and more than 6,000 employees – celebrated its 100th anniversary. Toyohisa Nakano, Executive Officer, in charge of Ship Technical and Environmental Affairs for "K" Line, is a 30+ year veteran of the company. He discusses with Maritime Reporter & Engineering News the ship owner's strategy to meet ever-tightening ship emission regulations.

Please provide an overview of the ships you have on order today.
We placed an order for 210,000-dwt Bulk Carrier to be completed in 2021 fiscal year with Japan Marine United Corporation. We placed an order for a car carrier vessel fueled by liquefied natural gas (LNG) with Imabari Shipbuilding Co., Ltd. Construction, which is scheduled to be complete this year. We established a new company jointly with three partners—Chubu Electric Power Co., Inc., Toyota Tsusho Corporation, and Nippon Yusen Kabushiki Kaisha—to develop an LNG bunkering business in Ise Bay. And we placed order for one bunkering vessel to supply LNG to ships with Kawasaki Heavy Industries, Ltd. Scheduled for completion this year (2020), it will become the first LNG bunkering vessel in Japan.

In looking at your overall operations, by ship type, by region or by both, where do you see opportunities for growth in the coming 5 years?
We will further refine our strengths and increase competitiveness in our four core business operations of dry bulk, energy transportation, car carrier and logistics/shortsea-coastal services.

In looking at your maritime operations today, what do you consider to the top three challenges to running efficient, safe ships?
Safety, Environment and Quality.
These are our company's strengths, cultivated over 100 years of history, and their importance will further increase in the future as sustainability becomes increasingly emphasized across society. By promoting research and development of various leading technologies and introducing and utilizing AI and IoT in our business to meet customers' needs, we will further enhance our strengths of Safety, Environment and Quality in both tangible and intangible applications.

Emission reduction and decarbonization is a focus for all shipowners today. Please describe in detail "K" Line's strategy to reduce emissions across the fleet.
We continue to carry out initiatives in line with "K" Line Environmental Vision 2050, which is our long-term policy that we formulated in 2015. In this vision, we aim to achieve a 25% reduction in CO2 emissions by 2030 versus 2011 levels and then cut our emissions by 50% by the year 2050.
Towards 2030, we will work on optimizing our operation by utilizing our data and improving of energy-saving technology.
2030 target includes not only new ships but also existing ships, and energy-saving design method for ships has been already deeply researched. So we pursue not only improving energy saving performance of ships' hardware, but also combining various plans such as fuel conversion, operational improvements, and cooperation with another kind of business.
We think that it is necessary that technology of zero emission is put to practical use in around 2030 to achieve 50% reduction of GHG total volume in 2050 target, and expressed its concurrence with "Getting to Zero Coalition", a corporate alliance launched at the United Nations Climate Action Summit in September 2019. Also, we think that it is important to develop fuel infrastructure as well as ship's own to respond in new fuel.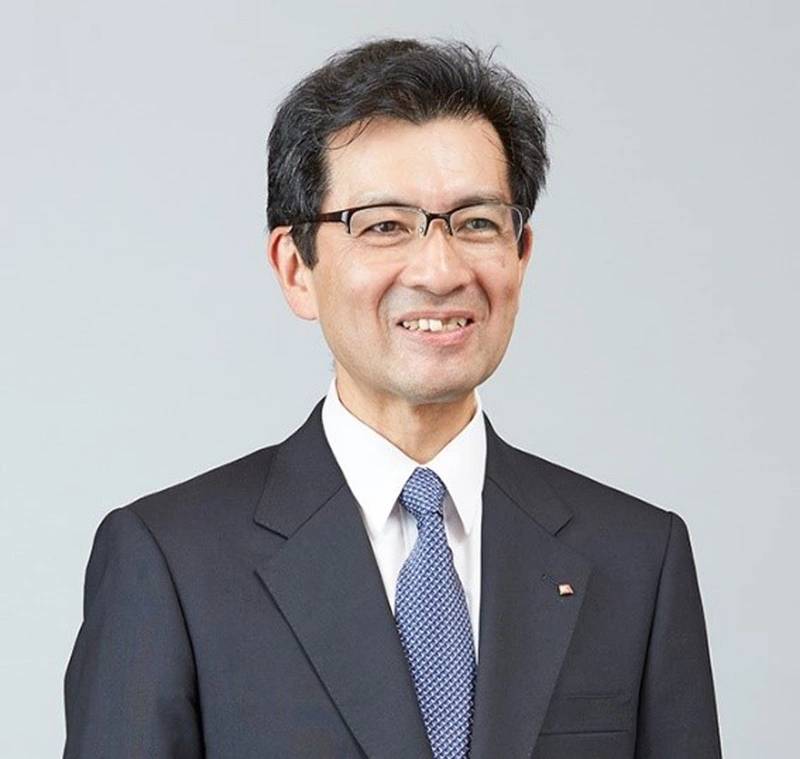 Toyohisa Nakano, Executive Officer, in charge of Ship Technical and Environmental Affairs for "K" Line. (Photo: "K" Line)Much talk revolves around the 'fuel of the future.' While today it is generally agreed that there is no single 'silver bullet' solution to achieve decarbonization, is there a technology or a fuel where K-LINE is more heavily invested?
It is still technically and financially challenging to adopt CO2 zero emission method such as carbon free fuel, natural energy and electrical propulsion and so on. On the other hand, there are some technically improved methods such as LNG and LPG fuel, so we will consider combining those methods. We expect that LNG fuel have potential used widely future and now considering the use for various types of ships. Also, we think that development of LNG bunkering infrastructure will redound to miniaturizing fuel tank, and LNG fuel will be fascinating for not only environmental aspect but also economical aspect.

Looking beyond fuel, can you describe the technology(s) onboard your vessels that you have found to provide good results?
We understand the goal of cutting GHG total volume by 50% is an ambitious target that needs 90 to 100% of improvement effectively. To have the results, we think it is necessary to utilize reproducible energy such as wind, wave, solar light on top of Zero Emission technology like fuel conversion.
We also believe it is necessary to have changes in logistics in the long term. Maritime transport is already an environmentally friendly option and we can have a bigger GHG reduction impact if we combine ship size enlargement and slower navigation. However, we need to make sure to obtain full understanding of many individuals including shipper for these logistic changes.

"Autonomy" and all that it entails is also a driver in today's maritime world. To start, how does "K" Line define autonomy? Please provide an overview of how the company is investing in R&D or joint venture projects designed to advance autonomy.
At this stage, we direct to automated vessel based on with some human intervention (i.e. with seafarers onboard). We think such advanced machines' support to human will result improving safety of vessel and efficiency of work on board. For example, we are considering big-data collection with monitoring some additional sensors for preventive maintenance etc.
In addition to that, we are working on optimal operation system using such big-data in order to achieve environmental friendly operation.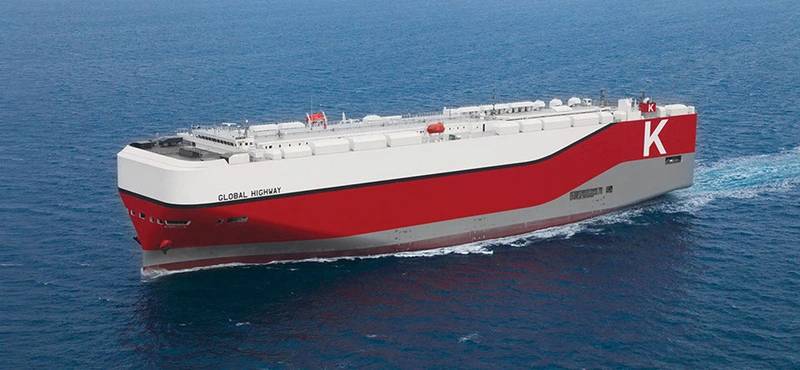 "K" Line counts 84 car carriers (1.4 million DWT) in its fleet. Photo: "K" Line.What are the top three points of focus for K-LINE Research & Development for the coming years?
Reducing GHG emissions, Digitalization, and Quality.

Can you discuss the top three most important current projects or Joint Industry Projects to "K" Line today.
In addition of reducing GHG emissions and Digitalization which we answered in another question, we are working on improving quality control system for ship management and logistics.

We understand that K-LINE has just celebrated its 100th Anniversary. As you explored your company history, what do you count as the overarching most impressive or important achievement that your company has delivered?
Throughout this 100 year history, we have been developed innovative ships like along with expanding our service worldwide. As the result of our challenge and good relationship with our stake holders. We would like to continue refining our strength for a brighter future.


The "K" Line Fleet (As of 9/30/20)
Type of Vessel/No.DWT(MT)
Dry Bulk Carriers 195 25,339,430
Thermal Coal Carriers 29 2,580,614
LNG Carriers 47 3,953,514
Oil Tankers 17 2,546,549
Offshore Support Vessels 6 29,186
Drillship 1-
FPSO 1-
Car Carriers 84 1,384,734
Short Sea and Coastal ships 52 604,581
Containerships 46 4,082,343
Total 478 40,520,951
* The number of owned vessels includes co-owned vessels, and deadweight tonnage includes share of other companies' ownership in co-owned vessels.
* Includes flagships and spot and/or short-term activities at the end of term.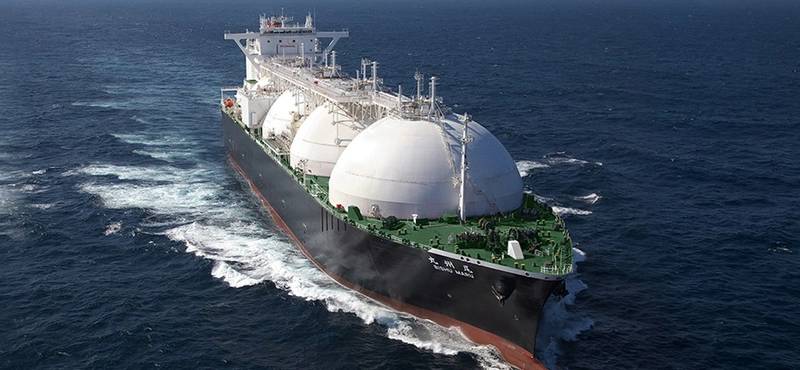 The "K" Line fleet is large and diverse. In total it is comprised of 478 ships (40.5 million DWT), inlcuding 47 LNG carriers (3.9 million DWT). Photo: "K" Line

• Nippon Yusen Kabushiki Kaisha • Kawasaki Heavy Industries Ltd. • Kawasaki Kisen Kaisha Ltd.