Nigel Shewring is Hempel Group's new Research & Development Director. He provided Maritime Reporter & Engineering News insights on the future pace and direction of coatings technology.
Nigel Shewring has spent his professional life on the R&D side of the coatings industry, starting in 1996 as a bench chemist developing liquid coatings for general industrial applications, moving later into the research and development of foul release coatings. For the last 15 years he has been leading international teams engaged in the research and development of powder coatings.
A UK citizen who studied chemistry at the University of Durham with a PhD from Sheffield Hallam University, he is truly a 'global citizen', married with three children two born in the U.S. and one in China.
His move toward a career in coatings started with his PhD, which involved investigating the interactions at the clay/polymer/water interface for the oil well drilling industry. "There are many similarities between such colloidal dispersions and with coatings and so there was a natural connection at a technology level," said Shewring. "On a personal level, the coatings industry is about engaging with people (whether it be customers or front line employees) in a pragmatic way and that fits well with my personality."
His career most recently led him to Hempel, as he found it "an exciting place to be" on many fronts. "Hempel is a growing company with the ambition to double in size in the coming years; Hempel is an innovator in coatings and a truly globally thinking, working and collaborating organization with strong technical competencies and skilled researchers."
Perhaps most importantly to Shewring, and really to anyone on the research side of business, is Hempel's commitment to "invest heavily" in R&D. "Hempel already has a unique network of 17 R&D centers around the globe to ensure the right solutions can be proposed to our customers but in addition we are currently constructing a new R&D center, which will house around 100 international researchers in Copenhagen where we have also recently opened a new rain erosion test facility. Hempel is the first coatings supplier capable of testing innovative coating solutions for wind blades to the latest and most challenging standards."
Finally, for the global citizen and his family, he reckons "it was an excellent opportunity for me and my family to live and work near the wonderful city of Copenhagen."
R&D in marine coatings is a particular challenge as ships and rigs operated in one of the most hostile and inhospitable atmospheres on the planet for metal structures. But Shewring leads a team of approximately 350 R&D employees, 10% which have a PhD and cumulative an average industry experience of 11 years.
The business side of the equation, and in general the cyclical nature of the business, presents perhaps the bigger challenge. "It is a huge challenge that there are few newbuilds, but we cannot control that," said Shewring. "We are focused on helping our customers and ourselves in a difficult market. We do this by developing and delivering what our customers demand, and by helping our customers to be competitive by contributing to lower their cost of operations. And by collecting data from our customers to deliver the optimal solutions. The marine market is extremely cyclic. Hempel is aware of this and do well in times of challenge. One of the reasons is that Hempel is focusing on maintenance as well as new-builds."
As with many other technical sector of the maritime industry, emerging and ever-more-stringent emission reduction rules are creating opportunities for Hempel as well. "Our customers look for solutions that minimize speed loss thus reducing fuel consumption and improve operational efficiency. Slow steaming, though not a new concept, is being adopted more and more by shipowners across the world as it means vessels burn less fuel by moving at a slow speed. We have developed trusted solutions to suit such operating patterns," said Shewring. As an example, he said that "our 1,400 vessel track record with Hempaguard has saved more than 10 million tonnes of CO2."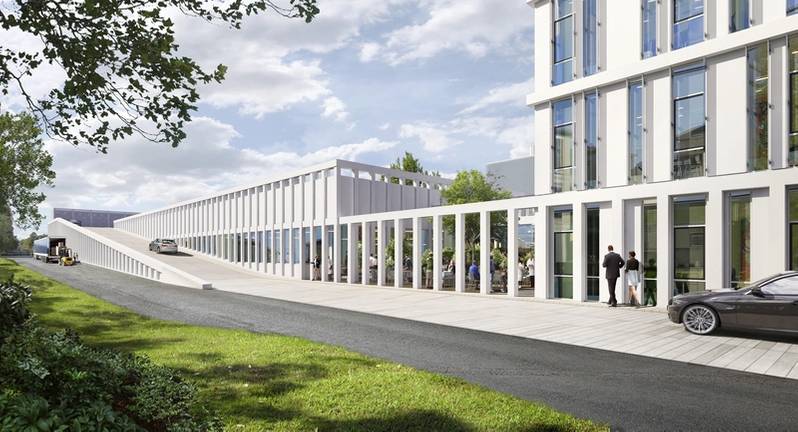 Hempel's new R&D Center. Image: Hempel.Hempel's New R&D Center
Hempel is adding two new buildings to its headquarters: a new R&D and test center and a new office building, in total 12,000 sq. m. to the Hempel headquarters in Denmark. "The R&D and test center will be the workplace for approximately 100 people, among them around 40 scientists from outside of Denmark," said Shewring. In addition to the open office environment in the new office building, it will include a new auditorium with room for up to 300 people – many of them will be students from the neighbouring DTU, the Technical University of Denmark, which we have long been collaborating with. The entire Hempel Campus is scheduled to be finished in 2021.