Great Lakes/Seaway Iron Ore Trade Behind 2017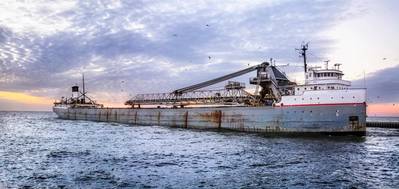 Shipments of iron ore on the Great Lakes and St. Lawrence Seaway totaled 5.5 million tons in April, a decrease of 6.3 percent compared to a year ago but nearly 15 percent ahead of the month's five-year average, the Lake Carriers' Association (LCA) reported.
Shipments from U.S. Great Lakes ports in April were down 4.5 percent at 5.1 million tons, LCA said. The mine that shipped through Escanaba, Mich. has been permanently idled, meaning all the iron ore shipped to U.S. steel mills in April had to transit the Poe Lock at Sault Ste. Marie, Mich. The MacArthur Lock is undergoing maintenance so has yet to open for this season.
Loadings at Canadian terminals in the Seaway totaled 380,000 tons in April, a decrease of 18.2 percent.
At 9.4 million tons, the year-to-date the iron ore trade is down 13.7 percent compared to the same point in 2017. Year-over-year, loadings at U.S. ports are down 15.6 percent at 8.2 million tons.
Meanwhile, Shipments from Canadian ports in the St. Lawrence Seaway have increased slightly to 1.2 million tons.
Iron Ore Shipments from Great Lakes and Seaway Ports to Great Lakes Destinations
Includes Transshipments to Quebec City for Shipment Overseas
April 2013-2018 and Long-Term Average (net tons)
U.S. Great Lakes Ports















Port

2013

2014
2015
2016
2017
2018
Average
2013-2017
Duluth, MN

1,034,913

172,262

579,316

707,895

792,096

873,939

657,296

Superior, WI
881,485

288,686

675,646

1,062,329

1,121,954

1,096,469

806,020

Two Harbors, MN
1,533,917

440,462

1,158,696

1,621,255

1,622,011

1,450,134

1,275,268

Silver Bay, MN
525,084

87,177

383,847

0
583,001

593,178

315,822

Presque Ise, MI

630,811

144,932

390,416

823,281

617,451

638,010

521,378

Escanaba, MI*
89,340

772,625

416,359

432,117

237,780

0
389,644

Cleveland, OH

170,999

153,700

312,688

334,181

314,468

318,905

257,207
Ashtabula, OH
0
41,559

0
0
31,392
110,710

14,590

Conneaut, OH
0
31,966

0
0
0
0
6,393

Total
4,866,549

2,133,369

3,916,968

4,981,058

5,320,153

5,081,345

4,243,619

Canadian Seaway Ports














Pointe Noire, QC

87,031

0
0
0
0
0
17,406

Port Cartier, QC

459,399

452,476

424,080

368,172

464,618

380,227

433,749

Sept Iles, QC

147,541

150,847

0
6,625

42,218

0
69,446

Total
693,971

603,323

424,080

374,797

506,836

380,227

520,601

Total - U.S., Canada

5,560,520

2,736,692

4,341,048

5,355,855

5,826,989

5,461,572

4,764,221

* Dock ceased operations April 2017.
** Transshipments within Cleveland Harbor.




• Cleveland Harbor • Great Lakes • Lake Carriers Association