Grandweld Opens New Dubai Shipyard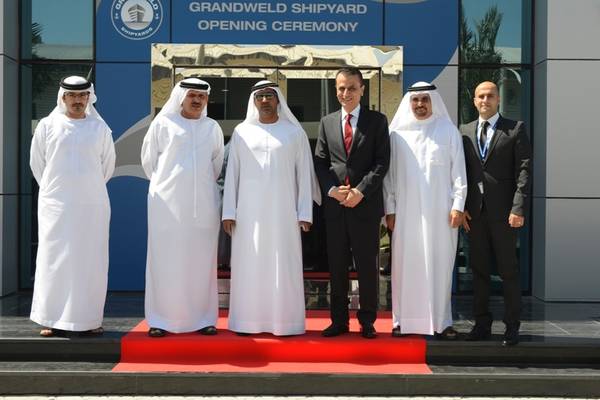 Grandweld Shipyards' new facility inaugurated in a ceremony at its location in Dubai Maritime City.

Over the years, the company has experienced a rapid growth necessitating expansion to a larger facility. In 2011, Grandweld invested approximately AED 100 million to expand its manufacturing and production area to double its annual capacity.

Spreading over 55,000sqm, Grandweld new state of the art facility offers a modern shipbuilding infrastructure; featuring 13,500sqm covered and insulated shipbuilding yard with overhead cranes, 28,000 open yard, 4000sqm modern offices, CNC shop and piping shop, and 5000sqm storage area. Completed in 2012, the expansion has increased the production capacity by 60% which is mainly dedicated for larger vessels.

His Highness Sheikh Ahmed bin Saeed Al Maktoum, President of Dubai Civil Aviation and Chairman of Emirates Group performed the inauguration ceremony.

"Grandweld's new facility has been designed with premium green building technologies and standards, and has achieved the "LEED GOLD Rating" making it the first marine green building in the MENA region." explained Jamal Abki, General Manager of Grandweld Shipyards.