Future-Fuel-Ready Courage Enters Service on the Rhine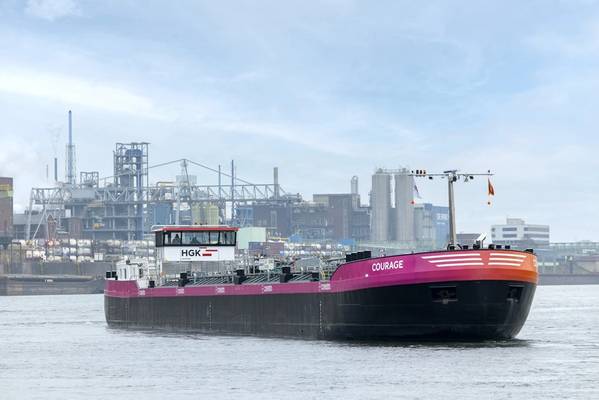 Following a successful initial loading operation and maiden voyage on the river Rhine, Covestro and HGK Shipping GmbH officially put into service the new low-water vessel called 'Courage' at the beginning of March.
Designed 'future-fuel-ready', It is designed to supply the material manufacturer's customers with finished products from the company's business sites in North Rhine-Westphalia. Sister vessel 'Curiosity' will be delivered in a few weeks.
The two low-water vessels sport a particularly efficient diesel-electric drive system, which enables the operator to reduce the CO2 emissions by up to 30 percent when compared to vessels that are currently in service. The emissions of particulate matter and other pollutants are also significantly lower. Both vessels, also, are ready for future fuels, as they can be modified to handle new types of fuels such as hydrogen as soon as these fuels are ready for general market use.
The vessels are seen as an important to safeguard continual transport operations for goods along the river Rhine – particularly if water levels are low. Shallow water levels are restricting these services more and more frequently. Thanks to these new low-water vessels, Covestro is now well equipped to also handle these extreme situations. The ships can even be used if the water level in Cologne is just 40 centimetres deep and therefore operate even if water levels are extremely low. The vessels are therefore very important, particularly for the factories in Leverkusen, Dormagen and Krefeld-Uerdingen. About 30 percent of the materials produced are shipped from these facilities to customers along the river Rhine.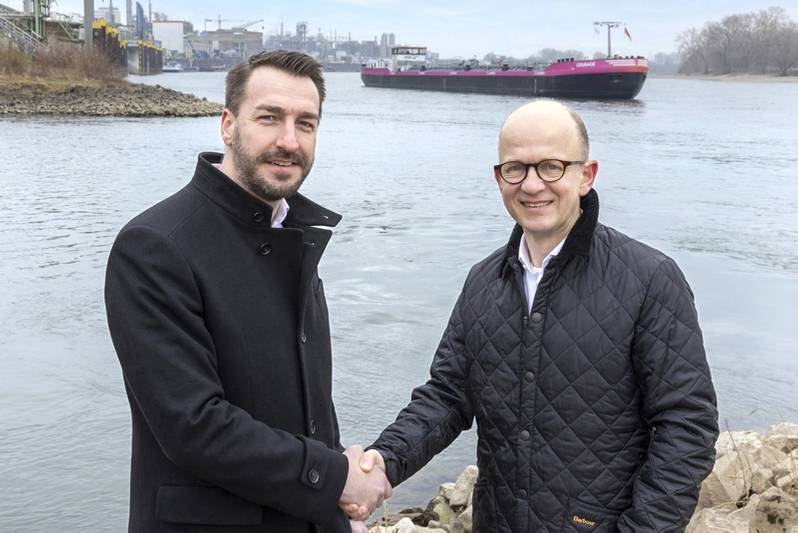 Steffen Bauer (left), the CEO of HGK Shipping, and Hanno Brümmer, the Head of Supply Chains and Logistics EMEA at Covestro, are delighted by the successful initial loading operation on board the "COURAGE" at the Leverkusen Chempark. Copyright: Covestro Deutschland AG, Michael Rennertz