Dutch HFG Wins Offshore EPCI Contract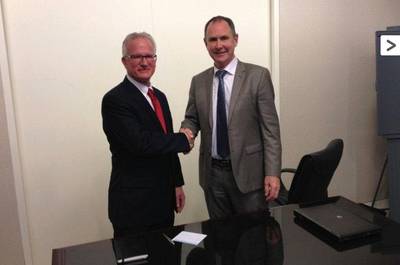 Heerema Fabrication Group contracted by Marathon E.G. Production to deliver the new Alba B3 greenfield gas compression platform.

The Alba Field is a gas and condensate field located approximately 20 miles north of Bioko Island. MEGPL operates the Alba Field on behalf of itself and working interest partners Samedan of North Africa, Inc. a wholly-owned subsidiary of Noble Energy, Inc.and Compania Nacional de Petroleos de Guinea Ecuatorial.


The gas compression platform is to be bridge-linked to the existing Alba B2 platform. Heerema Fabrication Group as the main contractor will manage the overall project from Houston in the United States and subcontract the EPCI scope, including offshore hook-up and commissioning of the platform in Equatorial Guinea, to third parties.


The Alba PSC B3 compression platform will consist of a topsides with a weight of 4,500 tons, a length of 40 meters, a width of 40 meters and a height of 35 meters. The 4-legged jacket will have a weight of 1,500 tons, a length of 33 meters, a width of 33 meters and a height of 81 meters.



HFG together with Iv-Oil&Gas in Papendrecht, the Netherlands, will jointly execute the EPC scope from Iv's subsidiary offices Iv-AGA in Houston. Sister division Heerema Marine Contractors in Leiden, the Netherlands, has been subcontracted for the transportation and installation of the platform in the Alba Field offshore Equatorial Guinea. The fabrication scope, including local content fabrication of the flare boom and bridge in Equatorial Guinea, will be tendered during 2013 aiming at offshore installation late 2015 with start-up planned for mid-2016.


In the picture: Greg Sills - Vice President Marathon Oil Corporation (left) and Wim Matthijssen - Chief Operating Officer Heerema Fabrication Group.

• Equatorial Guinea • Bioko Island • Noble Energy Inc.