DSC Dredge CEO Wetta Delivers Ghana Fact-Finding Trip Report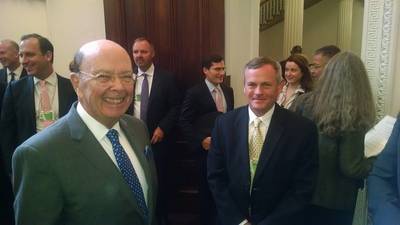 As a member of the President's Advisory Council – Doing Business in Africa (PAC-DBIA), Bob Wetta attended the September 26, 2018 Fact-Finding Trip Report meeting in Washington, D.C., with U.S. Secretary of Commerce Wilbur Ross and 13 other U.S. Government officials.
Their purpose was to deliberate and adopt the final report of the 2016-2018 term of the PAC-DBIA. Prepared by IBM's Takreem El-Tohamy, but unfortunately unable to attend the meeting, Bob Wetta presented the Ghana information which was a component of this complete report:
A summary of the 2018 fact-finding trip undertaken by PAC-DBIA members and U.S. Government officials, including highlights and key takeaways from visits to Ethiopia, Kenya, Côte d'Ivoire, and Ghana.
22 new recommendations to the President on measures the U.S. Government should consider to strengthen commercial ties with Africa.
Three Memos of Understanding (MOUs) were signed and represent the centerpiece of PAC-DBIA
trip engagements. The PAC-DBIA's recommendations encompass the key areas of (1) financing, (2) public procurement, (3) trade facilitation, (4) global value chains, (5) technology and digital economy, (6) workforce development and (7) MOU implementation. Africa is home to six of the top ten fastest growing countries in the world and U.S. exports to sub-Sahara Africa now exceed $21 billion annually.
Giancarlo Cavallo, Senior International Trade Specialist/ East and Horn of Africa and Designated Federal Officer for the PAC-DBIA Office of Africa U.S. Department of Commerce/International Trade Administration thanked the 23 PAC-DBIA members for their successful events and collaboration, explaining that following this meeting, "we look forward to carrying our collective efforts forward in the next term of the Council, with a focus on, 'putting ideas into motion,' as Secretary Ross put it."
Highlights from Bob Wetta's report on Ghana include:
The PAC-DBIA delegation, led by Secretary Ross, met Ghana government leaders, participated in a U.S.-Ghana Business Forum, and signed MOUs.
Secretary Ross signed a G2G MOU outlining this priority project for U.S. companies interested in commerce with Ghana, and providing a forum for addressing any trade barriers that could limit U.S. companies' abilities to pursue these business opportunities.
U.S. Trade and Development Agency (USTDA) executed a grant agreement to conduct a feasibility study and bring American private sector renewable energy expertise to Ghana.
IBM was pleased to execute an MOU with the Ghana Ministry of Lands to assist the Ghanaian government with exploration and development of relevant blockchain capabilities and use cases for land registries.



Bob Wetta reported, "From our time in Ghana, we felt that U.S. investment was welcome and saw great opportunities for U.S. companies; however, some challenges remain including trade facilitation, energy and mining policy, procurement and technology. It was exciting to hear Ghana's Vice President speak highly of his trip to Silicon Valley. He said that technology developed by U.S. companies, like blockchain, can help to drive economic transformation. This creates opportunities for IBM and U.S. companies broadly."




Secretary Ross also signed a MOU with Ghanaian Finance Minister Ken Ofori-Atta to provide a foundation for U.S. companies to invest in Ghana's energy, power, and transportation sectors. President Akuso-Addo welcomes U.S. investment and is working hard to achieve his vision of Ghana being the most business-friendly country in Africa.




• Advisory Council • Africa • C??te d'Ivoire