Dr. Doumbia-Henry Named WMU President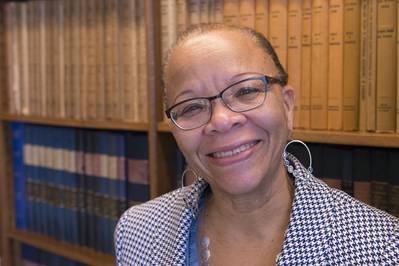 Dr. Cleopatra Doumbia-Henry has been appointed president to head the World Maritime University (WMU), as announced by the International Maritime Organization (IMO) and university.
Dr. Doumbia-Henry will be the seventh WMU president and will be the first female in the role.
Dr. Doumbia-Henry, who has dual Dominican and Swiss nationality, is currently director of the International Labor Standards Department, of the International Labor Office of the International Labor Organization (ILO). She is expected to assume office as WMU President, in Malmö, Sweden, in July.
Koji Sekimizu, IMO Secretary-General, who is also chancellor of WMU, announced Dr. Doumbia-Henry's appointment as he welcomed students at the start of the new semester at the WMU in Malmö.
"Dr. Doumbia-Henry has served the UN system with distinction for many years and as Director of the International Labour Standards Department of the ILO she was instrumental in developing and working with governments and the shipowners' and seafarers' organizations to help ensure effective national legal implementation of the Maritime Labor Convention, 2006," Sekimizu said. "She has had a long standing commitment to the maritime sector and to education, beginning with her doctoral research on IMO Conventions. In addition, she has an excellent knowledge of the needs of developing countries and the difficulties which they may encounter in implementing and enforcing the provisions of maritime transport related multilateral treaties. I am delighted that we have been able to secure such a distinguished and able individual to steer the WMU as it embarks on a new and exciting era and I wish her, and the university, every success in the future."
Dr. Doumbia-Henry began her career at the University of the West Indies, Barbados, as a lecturer in law. She worked with the Iran-U.S. Claims Tribunal in The Hague, The Netherlands and then joined the ILO in 1986. She served as a senior lawyer of ILO as well as in other management positions before being appointed Director of the International Labor Standards Department in 2004.
Dr. Doumbia-Henry was heavily involved in the development of the Maritime Labor Convention, 2006. Since the late 1990s, she has been leading the ILO participation in a number of IMO/ILO interagency collaborations on several issues of common interest to IMO and ILO, including the Joint IMO/ILO Ad Hoc Expert Working Groups on Fair Treatment of Seafarers and on Liability and Compensation regarding Claims for Death, Personal Injury and Abandonment of Seafarers.
Dr. Doumbia-Henry has been admitted as a Barrister at Law and Solicitor, entitled to practice in all English-speaking Caribbean jurisdictions and a Member of the Inner Temple, Inns of Court, United Kingdom.
Dr. Doumbia-Henry has published extensively on a wide range of international law subjects, including: international labor law, international trade law, maritime law and the law of the sea. She holds the following academic degrees:
Bachelor of Law (LL.B.) from the University of the West Indies
Masters in Law ( LL.M) from the University of the West Indies
Masters in International Law (LL.M.)from the Graduate Institute of International Studies, University of Geneva
Doctorate in International Law (Ph.D.) from the University of Geneva and the Graduate Institute of International Studies, Geneva, Switzerland
The appointment of Dr. Doumbia-Henry followed a rigorous competitive process carried out by a panel chaired by Koji Sekimizu, WMU Chancellor. Dr. Doumbia-Henry will take over from Professor Neil Bellefontaine, WMU Vice President (Academic), who has been Acting WMU President since June 2014 following the departure of Dr. Björn Kjerfve.

The role of the WMU President is to manage the University, under the direction of its board of governors, the executive board and the chancellor, who set the policies within the framework of the WMU Charter.

Founded in 1983 by IMO, the WMU is a center of excellence for maritime post-graduate education and research. WMU offers M.Sc. and Ph.D. programs, postgraduate diplomas, and professional development courses with the highest standards in maritime affairs. Headquartered in Malmö, Sweden with additional M.Sc. programs in Shanghai and Dalian, China, WMU promotes the international exchange and transfer of maritime ideas and knowledge.

A total of 3,293 students from 165 countries have graduated from WMU to date.

The WMU will be moving during 2015 to new premises in Tornhuset, the centrally located, historic harbour master's building that is being enhanced by a dramatic new addition designed by architect Kim Utzon in collaboration with Tyrone Cobcroft of Terrior Architects (Australia). The new building will be inaugurated in May 2015.

• Cleopatra Doumbia-Henry • International Maritime Organization • International Labor Organization