CSP, Abu Dhabi Ports Partner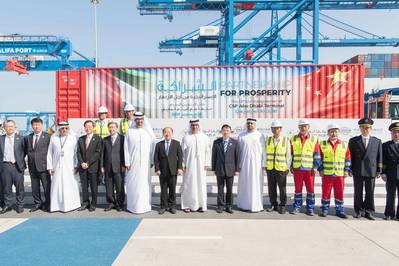 COSCO SHIPPING Ports and Abu Dhabi Ports inaugurated CSP Abu Dhabi Terminal at Khalifa Port; positioning Abu Dhabi as the regional hub for COSCO's global network of 36 ports and further connecting the Emirate to the major trade hubs along the Belt and Road Initiative (BRI).

The deepwater, semi-automated container terminal includes the largest Container Freight Station (CFS) in the Middle East, covering 275,000 square meters. It offers facilities for full and partial bonded container shipments, the full range of container packing services, short-term warehousing for deconsolidated cargo as well as easy connectivity with container terminals in Khalifa Port. The terminal is also the first international greenfield subsidiary of COSCO SHIPPING Ports, a subsidiary of China COSCO Shipping, the largest integrated shipping enterprise in the world. CSP has so far invested $300m in capital expenditure on construction and machinery at the terminal.

The partnership with COSCO SHIPPING Ports is part of a five-year strategy by Abu Dhabi Ports aimed at strengthening the maritime sector in Abu Dhabi and driving economic diversification, in line with Abu Dhabi Economic Vision 2030, by increasing regional trade and attracting foreign direct investment. Abu Dhabi Ports has earmarked $2.7B in investment that will increase ca-pacity at Khalifa Port from the current 5 million TEU to 9.1 million TEU, which also includes boost-ing capacity at Terminal 1 to more than 5 million TEU.

The CSP Abu Dhabi Terminal has a design capacity of 2.5 million TEU and will begin with a handling capacity of 1.5 million TEU, with 1200 meters of quay. The water depth of the terminal is 16.5 meters, allowing it to accommodate mega-vessels typically carrying in excess of 20,000 TEU.

The terminal was formally inaugurated at a ceremony at Khalifa Port by His Highness Sheikh Hamed bin Zayed Al Nahyan, Chairman of Abu Dhabi Crown Prince Court, and was also attended by His Highness Sheikh Theyab bin Mohamed bin Zayed Al Nahyan, Chairman of the Department of Transport; His Excellency Ning Jizhe, Deputy Director of China's National Development and Reform Commission ("NDRC"); His Excellency Dr. Sultan Al Jaber, the UAE Minister of State and Chairman of Abu Dhabi Ports; His Excellency He Jianzhong, Deputy Minister of Ministry of Transport of the PRC; His Excellency Ni Jian, Ambassador of the PRC in the UAE; Captain Xu Lirong, Chairman of China COSCO Shipping Corporation Limited ("COSCO Shipping"); Captain Mohamed Juma Al Shamisi, CEO of Abu Dhabi Ports; Mr. Zhang Wei, Vice Chairman and Managing Director of COSCO SHIPPING Ports; in addition to high profile VIPs.




• Abu Dhabi Ports • Black Sea • China COSCO SHIPPING Corporation Limited.