Court Reduces Horizon Lines' Fine To $15 Million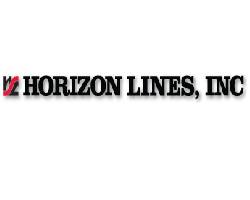 REDUCED FINE REMOVES MAY 21ST DEFAULT POTENTIAL RELATED TO CONVERTIBLE NOTES AND IS EXPECTED TO FACILITATE REFINANCING

Company Intends to Proceed with Puerto Rico Class Action Settlement

CHARLOTTE, NC (April 28, 2011) - Horizon Lines, Inc. (NYSE: HRZ) today announced that a federal court has granted a request by the U.S. Department of Justice to reduce the company's fine related to federal antitrust violations in the Puerto Rico tradelane from $45 million to $15 million.

As a result of the reduced fine, Horizon Lines is no longer facing the prospect of a May 21, 2011, default under its convertible note indenture. The company could have been declared in default by the convertible note holders on any judgment over $15 million that the company was unable to pay, bond, or otherwise discharge in full within 60 days of the March 22, 2011 judgment.

"We are greatly appreciative of this action by the Department of Justice, which also allows the company to proceed with settlement of the class action litigation in Puerto Rico," said Michael T. Avara, Executive Vice President and Chief Financial Officer. "The fine reduction will preserve our company's financial flexibility, and we are confident that it will facilitate our efforts to secure new long-term financing. We remain in constructive discussions as we continue to move forward with our refinancing efforts."

The reduced fine of $15 million is payable over five years without interest, with $1 million payable within 30 days of March 24, 2011 (which has been paid), $1 million on or before the first anniversary, $2 million on the second anniversary, $3 million on the third anniversary, and $4 million annually on the fourth and fifth anniversaries.

Stephen H. Fraser, President and Chief Executive Officer, stated: "While our customers have been overwhelmingly supportive since we filed the 10-K, our company has faced a challenging business environment through the first-quarter. We have been operating under increasingly tight constraints imposed by certain of our suppliers due to the going-concern audit opinion, which resulted in part from the note holders' decision to not grant us a waiver. This, in turn, has reduced our liquidity. The fine reduction should help give our business partners renewed confidence in our company's ability to continue supporting our customers and providing superior service. We look forward to executing a comprehensive refinancing with the note holders or other partners that will better position Horizon Lines for long-term success."

Mr. Fraser continued: "In addition to our loyal customers and suppliers, I want to thank the dedicated associates of Horizon Lines for their hard work and unrelenting focus on customer service, safety and operational excellence. The associates of Horizon Lines are truly this company's greatest asset, and with their support, I am confident that we have a bright future ahead."

Company Intends to Proceed with Puerto Rico Class Action Settlement

Horizon Lines also announced that the plaintiffs in the direct purchaser antitrust class action in Puerto Rico will not object to the company paying the remainder of the $10 million due under the settlement agreement in two equal installments, with the first due within 30 days after final approval by the court and the second due within 60 days after final approval by the court. As a result, the company does not intend to exercise its right to terminate the agreement.

Source: Horizon Lines