Coastal Passenger Ferry for China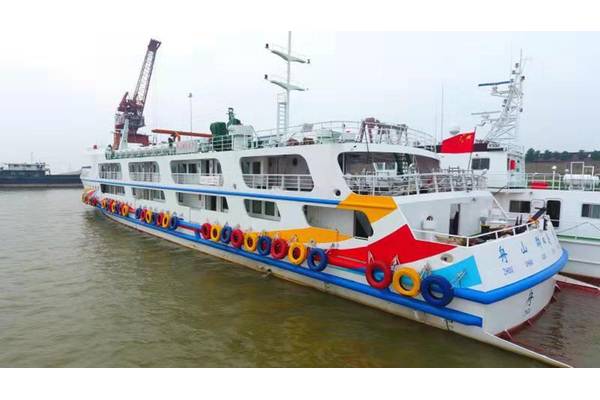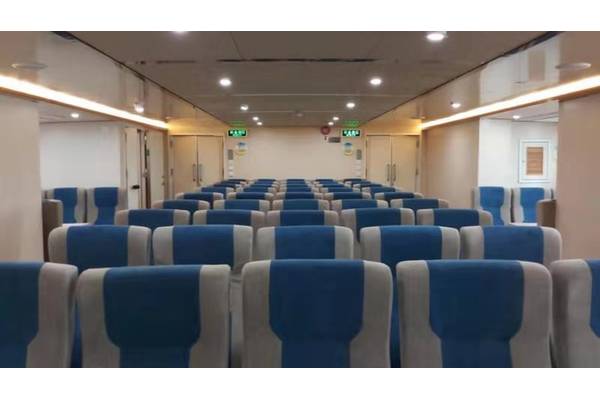 The Zhoushan Islands are just off shore of east China's Zhejiang province, and lie south of Shanghai on Hangzhou Bay. The main island is home to a naval base, shipyards and a port. It is a busy island with a well-developed ferry system carrying both people and vehicles back and forth to the mainland.
A fine new 690-passenger ferry, Zhoushan Islands Prosperity, has recently been added to this fleet of vessels. It is the largest ferry to date from the Hunan Xiangchuan Shipbuilding Industry Co., Ltd. Operated by a 20-person crew the sleek new twin-screw vessel will make the crossing at speeds up to 18 knots.
WUT Ship Co. Ltd. of Wuhan City designed the fine mono-hulled ferry. It is 65-meters in length overall with a 10.6-meter beam and a 4.3-meter molded depth. Tankage includes 8000 liters for fuel, 318 liters for water and 416 liters of lube oil. This gives the vessel a continuous operating time of 12 hours.
Propulsion power is provided by a pair of Cummins QSK60-M engines rated for 2700 horsepower at 1900 RPM and turning into an Advance Gearbox HCD1600 with a 4.75:1 reduction. Noise and vibration is reduced with the installation of a Vulkan/Wuxi flex coupling between the engine and the gear. Engine controls are by Morse Electronic Control. The QSK60 was selected for this vessel as it meets the new Chinese emission standard GB15097.
Auxiliary power is supplied by two sets of Cummins CCEC QSN-D(M) powered Marathon MP-H-200 Kw at 50 Hz generators. A DCEC QSB5.9 50 Kw generator set supplies harbor power.