Brisbane's Patrick Terminals Receives Cabinless STS Container Crane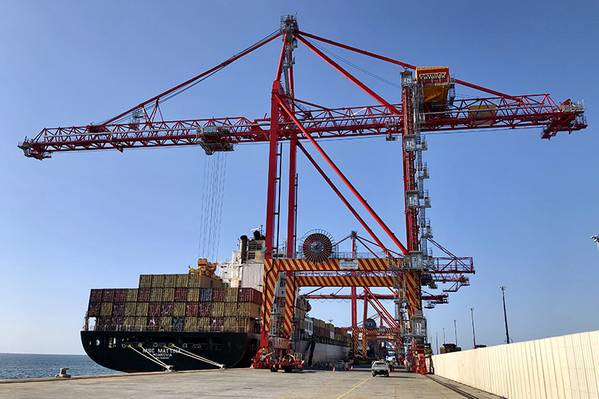 A new cutting-edge cabinless ship-to-shore container crane recently entered service at Patrick Terminals - Brisbane AutoStrad in Australia, where it is already hard at work handling container vessels and automated landside operations.
The crane from Liebherr Container Cranes Ltd. features extensive automation and utilizes Liebherr's Remote Operator Station (ROS) for pick and place over the vessel and for exception handling. The ROS allows the same level of crane control as an onboard operator but from an office-based environment.
The new crane features an outreach of 54 meters, a backreach of 48 meters, a lift height over rail of 40 meters and a span of 25.3 meters.
This semi-automated crane is the first of its kind for Patrick Terminals, and one of the first cabinless Liebherr ship to shore container cranes to enter service globally. Liebherr noted it has previously delivered fully automated and cabinless rail-mounted gantry (RMG) cranes. In addition, Liebherr added it has many automated ship-to-shore (STS) and rubber-tired gantry (RTG) cranes on order, with several scheduled to be operational in the coming months.
Patrick Terminals - Brisbane Autostrad has two Liebherr ship to shore container cranes, the first unit was supplied in 2015 and has recently undergone a lift height and outreach extension using the innovative and patented Liebherr transform technology.