Rio Brasil Terminal Welcomes COSCO's ESE2 Service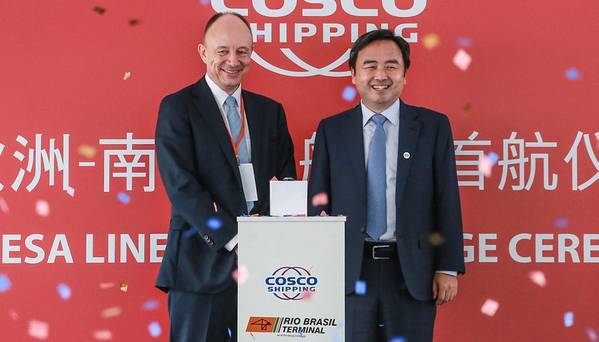 Rio Brasil Terminal (RBT), International Container Terminal Services, Inc.'s (ICTSI) operation at the Port of Rio de Janeiro, recently handled the inaugural call of COSCO Shipping Lines' Europe – East Coast of South America (ESE2) service.
On September 15, the vessel Xin Nan Tong inaugurated the ESE2 service at RBT. The new service connects the Brazilian states of Rio de Janeiro and Minas Gerais to Europe, offering customers a stable weekly connection with very competitive transit times from the East Coast of South America to Europe. The ESE2 service is aimed at targeting refrigerated cargoes out of South America, and the consuming markets of Europe such as UK, Netherlands and Belgium.
The ESE2 service covers the following port rotation: Rotterdam (Netherlands) – London Gateway (UK) – Hamburg (Germany) – Antwerp (Belgium) – Lisbon (Portugal) – Algeciras (Spain) – Santos (Brazil) – Paranagua (Brazil) – Montevideo (Uruguay) – Buenos Aires (Argentina) – Itapoa (Brazil) – Paranagua – Santos – Rio De Janeiro (Brazil) – Algeciras – Rotterdam, with an expected total duration of 9 weeks.
The initial fleet will have 4,000-5,000 TEU ships.
Anders Kjeldsen, ICTSI senior vice president and regional head for Latin America, witnessed the inauguration of the service together with Heyue Ge, COSCO Shipping Lines deputy general manager. They were joined by RBT's business partners, local government officers and stakeholder representatives from across the supply chain.
On the same occasion, RBT and COSCO signed a preliminary contract for the operation of CLIA Pouso Alegre – a logistics corridor in Minas Gerais covering empty container yards and bonded warehouses.