Noboru Ueda
Chairman & President, ClassNK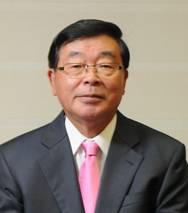 Without a doubt, the role of classification societies has evolved over time. In your estimation, what has been the biggest evolution of class in the past five years? Now encompassing myriad roles, what is next for "class?"
While I cannot speak for other class societies, I think the biggest change for ClassNK has actually been the expansion of our role from working purely as a regulator, to being an innovator of new technology.  The reality today is that we are developing more advanced and rational rules, that are leading to more robust, safer, and more efficient ships but at the same time new regulations and higher standards can also mean greater burdens for shipyards and operators.
As organizations dedicated to supporting the maritime industry, it's not enough to just create better and stricter standards, we also need to proactively innovate new tools and best practices to make it easier for yards and owners to not just reach compliance, but also achieve higher levels and operations.
It's this transformation from acting as regulator to working as an innovator of new technology to improve ship design and operations that I think will drive the development of classification in the future. 

What is the biggest development for so-called IACS quality classification societies in the past year? Are there any game changers looking large in the center porthole?
I think by far biggest and most important development for IACS was the adoption of the new harmonized Common Structural Rules (CSR) in December 2013. The new rules, which have been under development since 2008, not only unify and harmonize the technical requirements of the existing Common Structural Rules (CSR) for tankers and bulk carriers, but also incorporate new requirements for more comprehensive structural analysis at the design stage, well as new criteria to enhance safety and reliability that will bring the rules in compliance with the IMO's new Goal Based Standards.
The new rules will be applied to all bulk carriers over 90m and all oil tankers over 150m contracted on and after 1 July 2015, and will enable ship designers to work to one common standard applicable to both ship types, resulting in the further enhancement of safety and reliability of the structure. It represents a major step change in ship design that will ensure that new ships are safer and more robust than ever before.

Technology on board vessels is rapidly catching up with that ashore and the slowly declining price of bandwidth is making it more attractive and affordable for operators to use SATCOM to harness that technology. Where does class fit into all of that?
Greater availability of bandwidth and also new developments in sensor and analysis technology are obviously creating tremendous opportunities for ship operators to improve their operations. Technologies for optimized weather routing, speed optimization and other tools to improve fleet efficiency like our work with NAPA on ClassNK-NAPA GREEN, for example would improve their effectiveness and utility with these technologies. 
At the same time however, use of bandwidth is still limited, and we are just now seeing owners and operators begin to really take advantage of improved communications. In the future I think we will see many more technologies emerge that use cloud technology to make ship operation and maintenance much more efficient in the future.

Staying on the technology theme, as the industry has been faced with simultaneous regulatory and market pressures over the past five years, what do you consider to be the most influential changes to the vessel (technology and/or design) and why?
Without a doubt, the biggest change we've seen has been the shift towards more efficient and greener ships. As you say, this is happening both as a result of market forces such as bunker prices, as well as new regulations such as the EEDI. 
It's only been a few years since the industry really started to work towards innovating more efficient vessels, but we're already seeing very impressive improvements in terms of improved fuel efficiency and EEDI scores. At the same time, new GHG reduction technologies like air lubrication, and new low friction paints are just now entering commercial use. We're now seeing the first fruits of efforts towards GHG reduction, and I think that we'll see even more impressive technology, and even greater benefits in the years to come. 

LNG as Fuel continues to pick up support. Looking at the looming emission and fuel regulations to and through 2020, please comment on how you see "LNG as Fuel" evolving in the coming six years?
As the use of LNG as a fuel can lead to both reduced fuel costs and make it easier to comply with environmental regulations, we think there is tremendous potential for the widespread use of LNG as a fuel in maritime industry.
However, just how far the use of LNG as a fuel will spread over the next six years will depend on a number of factors, including the number of ports developing LNG bunkering facilities, as well as the status of rules and standards related to use of LNG as a fuel at the IMO and ISO. If international rules and regulations can be agreed upon in a timely fashion, and a critical mass of ports can provide LNG bunkering facilities over the next six years, then I think we will see the use of LNG as a fuel spread worldwide. 

Slowly – but surely – and certainly here in the United States, the lines of demarcation between 'Class' and the regulatory community that they help serve, are becoming blurred. Classification Societies now routinely perform many tasks heretofore the exclusive domain of the flag state and the Coast Guard. As this practice widens, how do you maintain your objectivity and more importantly, who is checking now to make sure the job is being done correctly? Are there checks and balances still in place? If so, how?
USCG does a tremendous job not only ensuring the safety of both the private and commercial maritime community along both coasts, the Gulf of Mexico, and the inland waterways, but also enforcing PSC at some of world's busiest ports.
UCSG has a huge role to play but it does not have unlimited resources, and as regulations increase in both breadth and complexity, it is only natural that USCG is partnering with class societies to help address this burden. Flag states and government authorities around the world trust class societies to carry out these roles (at ClassNK, for example we issue certification on behalf of well more than 100 flag states), and this is a common arrangement in the maritime industry.
The USCG maintains incredibly high standards for the organizations it delegates authority to, and has been very selective about which classification societies it works with. Even among IACS, the global top rank of classification societies, less than half of the members are recognized to work on behalf of the US Flag, and we're very proud to be among that select group.

Consolidation within the classification society world has brought together great strengths, but also centered power and influence in fewer organizations. What are the positives for the maritime industry? What are some potential drawbacks?
As the maritime industry is truly global, I think the growth and consolidation of classification societies may be a good thing for the industry.  A developed global infrastructure allows class societies to support the maritime industry around the world, and also provides the resources necessary to contribute to the entire maritime industry.
So long as ship owners and yards have a variety of potential partners in the classification, and there is fair and open competition, we see no real downsides to the growth and consolidation of the industry.

Are there roles that Class should NOT take on? If not, why not? Give us some examples.
One criteria of membership in IACS is that every member maintains "independence from ship-owning, ship-building and other commercial interests which could undermine the Classification Society's impartiality," and I think it is essential for class societies to maintain our independent and third party status in this regard.
At the same time, however, for ourselves at ClassNK we believe that the very purpose of classification is to contribute to the development of the maritime industry, including not only ocean-going vessels, but also inland and coastal shipping, as well as the offshore sector. That is the basis for all of our work and development as an organization. Whether it be developing new services for shipyards or owners, improving our service and quality, or conducting R&D, everything we do is dedicated to protecting life and property at sea, protecting the marine environment and supporting the maritime industry, and I expect that to continue in the future.

The regulatory schemes are many and rapidly evolving. The U.S. Coast Guard, for example, had as many as 68 active regulatory projects on their docket at the end of 2013. Looking globally, what do you consider to be the top two or three regulatory issues that will have the deepest impact on the maritime world, and why?
While there are many new regulations like ballast water management for example, which will have a major effect on yards and owners especially over the next few years, I think the regulations that will have the deepest impact are design related regulations like the EEDI and the new IACS harmonized CSR.
With EEDI we have a new index for evaluating the efficiency of vessels at the design stage that is already driving the development of more efficient ship designs. As the next phases of the EEDI are implemented, we should continue to see steady improvement in ship efficiency over the next decades.
At the same time the harmonized CSR which will enter into effect in 2015, incorporate the IMO's Goal Based Standards approach to ship design. As a result of this new approach, I think the new CSR will really usher in a generation of safer and more robust vessels for decades to come.