Matt Desch
CEO, Iridium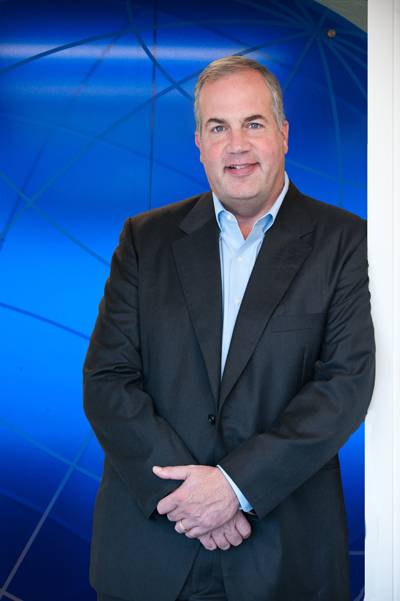 The maritime industry is generally thought to be conservative. As satellite communications, in relative terms, is still in its infancy, what do you count as the best arguments in favor of the medium in breaking down traditional barriers?
Today's crews are of a generation that expects ubiquitous connectivity wherever they are, so the restrictive, expensive, pay-by-the-minute communications models that used to work in the past simply don't work today. Ship owners are under immense pressure to reduce overall operating costs while maintaining crew morale, and because of this, we're seeing high demand for affordable, high-value voice and data services. Iridium has always been the leader in providing high-value, low-cost maritime communications and, since 2008, broadband solutions. We're continually investing in product development, our satellite network and our partners who meet the needs of the various industry stakeholders we serve. Iridium Pilot is the latest example of Iridium's long-term commitment to improving the customer experience and satisfying communications needs in the farthest reaches of the world.

How is Iridium investing today?
Our partners are critical to our success. They are using our technology to create smart, exciting new devices and solutions, so we continue to support them in any way we can. Our team also continues to innovate by offering enhanced products, and even product-less solutions such as waveforms, from which we will be able to develop unmatched communications tools for the maritime market. But our ultimate obligation as a leading communication company is to meet the growing expectation of connectivity. One of the biggest innovations and investments we're making today is the creation of our next-generation satellite constellation, Iridium NEXT. We're making our unrivaled network more accessible than ever so that it gets easier to connect and communicate on an ongoing basis. Iridium NEXT is the world's most significant commercial space program underway. We have a fully funded plan to build it and are well along in the development. The system is on track for its planned launch in 2015.

What do you see on the regulation front that could be a boon for your industry?
Safety at sea regulations related to LRIT and SSAS, as well as the modernization of GMDSS and e-Navigation, continue to introduce new customers to Iridium. Solutions based on our network are cost effective, reliable, and there are no compromises in coverage – for example, we're the only communications service that provides connectivity in the Arctic regions. We not only keep mariners connected, we help ensure vessel monitoring regulations are met in real-time, efficiently and effectively. Fishing and eLogbook regulations play well into the Iridium product and services portfolio in the same way, from the fisheries management standpoint as well as for man-overboard tools for fishermen. Iridium also is playing an important role in the battle against pirates disrupting trade. One of the Best Management Practices published by the IMO for shipping companies and ship masters sailing in the danger zone is to establish a "citadel" – a hardened safe room below decks where crews can take refuge if pirates seize control of a ship. The citadel design calls for a reliable, secure communication link the crew can use from inside to communicate with forces coming to rescue. It needs to be a secure, stand-alone communication system, connected to an antenna and with cabling that pirates cannot disable. Iridium has become the preferred communication medium for this purpose, thanks to our reach, reliability and real-time voice service, as well as low-latency GPS tracking. In the same way, Iridium is ideal for overall search and rescue (SAR) scenarios, providing a service that enables everything from medevac and vessel tracking, handheld satellite phones offering services such as SOS buttons and geo-fencing capabilities, and increasingly smaller, more feature-rich embedded devices for a myriad of partner handheld personal location products used at sea such as the DeLorme inReach and the Briartek Cerberus. We also see growth in the use of Iridium in oceanology applications such as the early tsunami warning system along the Pacific Coast of the U.S.

What do you see on the regulation front that could give cause for concern to the SatCom industry?
I don't really see as much that is concerning as I see opportunities. One of the hot areas in regulation is the reuse of satellite spectrum for terrestrial use – to basically create value out of satellite spectrum. We're not interested in that – we see great value in using our spectrum in our business and don't need to lease it to others for cash. Of interest to the maritime industry, of course, is the requirement for organizations to meet growing regulatory safety and security standards around the globe. Ships in distress rely on mobile satellite voice and data services. Many Iridium value-added manufacturer partners are approved to meet IMO standards for SSAS service. In addition, the IMO's requirements for LRIT of vessels address SOLAS issues but require truly global, pole-to-pole satellite service including one that works on shipping routes in Polar Regions. Iridium meets all requirements for serving as an LRIT communications service provider for location reporting, asset status updates, operator safety information, weather data, text messages and email. The IMO's efforts to expand reliability for Worldwide Navigational Warnings for the Arctic Region is a clear opportunity for Iridium, the only network providing complete coverage over Sea Area A4 (above 70 degrees latitude) and we feel we meet those requirements. Finally, we continue to meet the various licensing requirements in new countries and regions. We continue to pursue regulatory authority to distribute mobile satellite services into countries such as Russia. We look forward to eventually becoming a premier provider of services there given the country's extensive areas still underserved by terrestrial systems and other satellite communications – particularly maritime.

If you had the power to unilaterally enact one change, one philosophy or one piece of legislation that would most dramatically increase your business, what would it be and why?
Since many of your readers have been following Iridium, you know that our next-generation constellation, Iridium NEXT, is designed with the ability to support "hosted payloads" on each of the 66 satellites that will encompass the constellation. We are close to announcing what that hosted payload will do, and details about the new business we plan to help create, going beyond our traditional communications service. We're spending the majority of our effort on forming a global aviation monitoring business, with strategic partners, which would deploy a payload that monitors aircraft all over the world and then supplies that information in near real-time for air traffic control – particularly over the oceans where there is no radar coverage today. We are incredibly excited about it, but I have to admit, I originally thought our hosted payload in space would have been rented out to a government agency for their use instead of them launching their own, very expensive satellites. Given the budget environment of the U.S. Government right now, I would say, if I had the power to unilaterally enact change, I would waste no time opening up the funding flow for more public/private partnerships around hosted payloads. U.S. Government organizations should be looking for their missions to hitch low cost rides into space first, rather than through the opportunistic manner in which they do today. I'm hoping they figure out how to do this more effectively in time for when we start planning our third-generation Iridium satellite constellation in 15 years or so!