Laura Sherman
Director, Marketing & Communications, IRI Group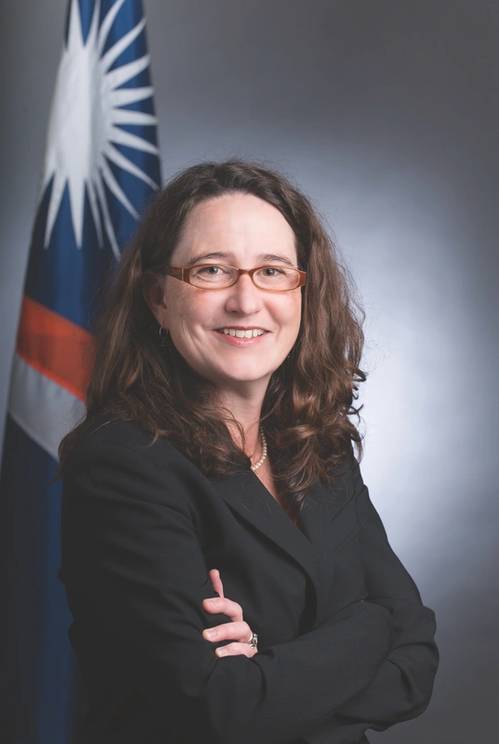 WISTA  members all over the globe wear many and varied hats on the waterfront. Laura Sherman of the IRI group of companies, on the other hand, wears more than one, every day. She joined IRI in 2001 as a Marketing Coordinator, and was promoted to Director, Marketing and Communications in 2007. More recently, she has also been tasked with the role of Operations Technology Officer, working with the different offices and departments to ensure that all aspects of the implementation of information technology services were considered across the company. The two concurrent roles keep her busy, but they also complement one another nicely when it comes to putting out the good word for IRI, as well as making sure that message is conveyed safely; and in the most effective manner possible.
Early Exposure
A 1985 family visit to Caracas, Venezuela provided Sherman's first look at the maritime industry. A luncheon on board a Panama-flagged and Greek manned vessel opened her eyes to another part of the world that most people never get to see. Fifteen years later, while working towards an MBA, she began to look for employment that would allow her to continue her studies. Responding to an advertisement for a position with International Registries, Inc. (IRI), her research also found that IRI provided administrative and technical support to the Republic of the Marshall Islands Maritime and Corporate Registries. She's been on the waterfront ever since.
It has been said that very few people ever get to do exactly what makes them happy and fulfilled, every day at work. If that's true, Sherman is one of the lucky ones. She told MarPro in July, "The maritime industry is very dynamic and an international business in the truest sense. After nearly 15 years with IRI, I can honestly say that I have always been interested in my work and in fact, I am constantly engaged and challenged by this industry on a daily basis. Even though the maritime industry is an international business, it is a surprisingly small community and those that I have met are truly remarkable people."
IT, International Comms and IRI
Fast forward to 2016 and it is clear that Sherman stays busy. The cum laude graduate of James Madison University is responsible for overseeing the budgeting, marketing, and press activities in coordination with 27 IRI worldwide offices. And, because this includes coordinating event participation, advertisements, press releases, marketing trips and marketing collateral, she is required to be familiar with all aspects of the business. Leveraging her credentials as a certified Quality System Auditor and her position as Assistant Quality Management Administrator, assuming the additional position of Operations Technology Officer was a logical move for the registry. In this role, Sherman oversees the Information Technology (IT) Department as it serves regional offices and other departments to ensure that all aspects of the implementation of IT services are being considered across the company. 
Without a doubt – and in today's wired world – IT and comms go hand in hand. Within IRI, Sherman weaves the two together on a daily basis. That's easier said than done. She explains, "The RMI Registry has grown on average 13% annually on a consistent basis since 2001. Like many organizations, the technology is not always able to keep up with this type of growth. We now have more than 360 employees worldwide that all need to be connected in the same way, utilizing the same security protocols, etc." To that end, she says, "We are in the process of upgrading our core infrastructure, baselining all offices in terms of office infrastructure hardware and are in the process of completing a migration to Office 365. We are also in the process of identifying the steps we need to take to better leverage social media and how we should manage this."
It's a delicate balancing act, and it is a work in progress, says Sherman. For example, the various worldwide offices no longer need to wait for day-to-day business decisions to be made from headquarters; however, how IRI communicates news is still typically managed from headquarters. She adds, "Because of this, we do not yet have all the parts in place to leverage something like Twitter, but we do utilize platforms like LinkedIn to publish our press releases."
WISTA & the Waterfront
In her previous role as a Director of Communications for an estate planning law firm, Sherman was not typically engaged with the press or the internal communications within the organization. At a global maritime concern like IRI, however, that's all changed. Sherman insists, "The shipping industry is very personal and face-to-face contact is important to developing relationships." Indeed, and within IRI Registries itself, Sherman interacts on a daily basis with myriad nationalities in terms of crew, officers and ship managers. As far as she is concerned, that reality also makes her job a little easier. "We are fortunate to have 27 worldwide offices located in major shipping and financial centers worldwide. We are able to leverage the close relationships personnel in these offices have for our communication needs, including translating press releases, articles or marketing collateral."  
By her own reckoning, one of the things Sherman is very good at is connecting the dots and recognizing when things are related and how things may be impacted. That goes for IRI business, as well as her outreach outside of the Registry. A big part of that outreach involves WISTA – the Women's International Shipping & Trading Association. Sherman has been a member since 2004, and recounts the benefits that WISTA brings, especially in contrast to her early days on the waterfront. "I recall being at a number of shipping events and feeling uncomfortable because not only was I new to a very interesting and dynamic industry, but I was one of the few women at those early events that I attended. I found the WISTA network provided an ice breaker during these situations. Once you speak with one person, you suddenly are connected to another ten." She adds, "Looking back, I can say that there have been a number of women in the industry that have informally mentored me over the years and provided valuable advice. There are 
many organizations in the maritime industry that offer these same attributes, but WISTA, for me, has provided an easy and open forum to not only better understand all aspects of the industry but to also develop lasting friendships."
For Sherman, those relationships constitute a two-way street. Today, she serves on the WISTA USA board, working on and organizing, among other things, the 2016 WISTA International Annual General Meeting which is to take place in November of this year aboard the cruise ship M/S KONINGSDAM.
Looking back and also ahead, Sherman's efforts and that of her WISTA sisters have made unquestionable inroads over time. Sherman explains why, saying, "The awareness of the shipping industry that exists today in comparison to when I began my career at IRI is vastly different. Industry stakeholders have been very supportive of programs that exist to provide awareness to young adults about life at sea. I know IRI, like other organizations in the industry, has provided presentations to students at all levels." Likewise, those opportunities are expanding for women, as well. 
Thinking as a Communications Manager and IT specialist, Sherman adds simply, "I think, first and foremost, women need to know what opportunities exist and they need to have a desire to work in the maritime industry." That's because, she insists, "Most folks I come in contact with have a real passion for this industry and it is present during conversations." That attitude pays dividends and over the years, it has also attracted a similar mindset from the WISTA crowd. "As far as I have seen, nearly all the organizations we interact with have leadership positions held by women. I would say they stack up favorably."
All of that adds up to progress. And, who better to broadcast the good news than the Director of Marketing and communications for the IRI Group?
(As published in the Q3 edition of
Maritime Logistics Professional
)