Ken Cognevich
President & Founder, Engine Monitoring, Inc.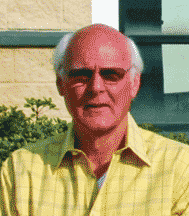 How did you become involved in the industry?
I'm a native of Venice, Louisiana, attended trade school to become a draftsman, and worked at Chevron for six years. In 1965, I was drafted into the Army and continued honing my skills as a drafter. After two years of service, I returned to Louisiana and Chevron. While working for Chevron, I received special permission to work for Baker CAC as a part time draftsman. I worked 80 hours a week and was able to make ends meet.
I started to work for small engineering firms doing all types of drawings, including PC Boards and working hands-on with production departments. Following that I worked for an electronics manufacturing company for about one year providing electronics for the marine industry. When the company decided to go in different directions, I had three options: start my own business, join a union, or have my wife go back to work teaching while I continued drafting for small engineering firms. At that point I'd been married for five years with two small children and a new house. I knew Ingram Barge had a building program and there were other opportunities with other companies who believed in my product and skills. So I decided to let my drive and determination kick in and began my own business, Engine Monitor, Inc. (EMI).
How has EMI most dramatically changed from its inception to today?
When I started in the marine industry the most difficult obstacle was convincing customers to move from older relay technology to newer technology such as discrete components and circuit boards. At the time I worked with electrical engineers drawing schematic and laying out PC Boards using two to one tape process by hand. Through the years, EMI has strived to use the latest technology, such as computers, PLC's, solid state devices advanced circuit board designs. After 35 years I still can service all of our existing equipment in the field. I know that the big corporations can't say the same.
What has been the driver for this change?
Technology and demand for speed and availability drives the world we live in. I think small companies today still offer a value added, which is long term service, product support and quality. These have remained our core values at EMI. Our key employees also make a big difference in the stability of EMI. We have over 110 years of knowledge just in our upper management team. We value our customers, employees and suppliers and do not always change products just to save a dollar.
What advanced technology does your company provide?
In order to offer PLC solutions, EMI became a Siemens and WAGO Solution provider. EMI provides advanced components such as digital ruder order indicators and multiple interface solutions. And EMI became the first company in the U.S. to design, program and manufacture a Dynamic Positioning System. EMI has continually added products to our catalog to provide our customer's with a one source stop. We can provide just about everything you need on a vessel including steering, engine controls, automation, engine order telegraphs, shaft tachometers, engine tachometers, tank level indication, console design and fabrication, dynamic positioning and an extensive inventory of sensors, switches and hydraulic components.
EMI's next advancement will be proving a DPS-2 system. This is an advancement of our original DPS-1 system that provides full redundancy requirements. EMI is also developing multiple circuit board designs that provide easy to use interface and calibration, as well as touch screen technology.
How is EMI investing in the future?
Last year we added 15,000 square feet to our production department. This additional work space allows us to produce and test large integrated systems setup as one unit, as they would be in the field. Another aspect of the additional workspace is a completely new hydraulics manufacturing department.
We will soon have our DPS-2 System to market as well as our newly designed RAIs, EOTs, Shaft Tachs, etc. with touch screen technology. We are also working on an integrated chair solution for the Pilot House. EMI is looking to market our products for distribution in all of North America as well as the International market.