Jorge Duran
Secretariat of the Inter-American Committee on Ports (CIP)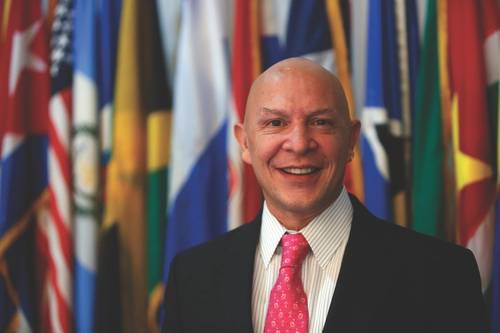 Born in Mexico City, Jorge Duran grew up in Mexico, and due to his father's diplomatic postings, subsequently spent time in London, England; Stockholm, Sweden; and Washington, DC. In 1989, Jorge earned a Bachelor's of Arts degree in Psychology with a minor in Latin American studies from American University. Following graduation, he spent two years at the Science Advisory Council to the President of Mexico and then received a full scholarship from Mexico's Science and Technology Council for a dual Master's Degree in International Affairs and Science and Technology Policy from The George Washington University in Washington, DC (1992-94).
After a brief stint at the Mexican Mission at the United Nations in New York, Jorge returned to Mexico where he embarked upon several initiatives in the private sector. For over 25 years, Jorge Duran has worked with the governments and private sector of the Americas in the design and implementation of development projects in Latin America and the Caribbean. Since 2003 Mr. Duran has served at the Organization of American States (OAS) as Senior Advisor in Technology for Development, Senior Manager for Municipal Development and Capacity Building, in 2012 as Chief of the Office of Science, Technology and Innovation and, since 2013, as Chief of the Secretariat of the Inter-American Committee on Ports (S/CIP).
He has been responsible for projects such as entrepreneurship strategies for MSMEs, innovation for competitiveness, micro business promotion through ICTs; on-line training; municipal development in e-government and cadastre; scientific journalism, university curricular improvement, maritime and port environmental protection programs and improved supply chain management logistics for increased competitiveness. Additionally, Mr. Duran has a proven record of establishing successful strategic alliances with the private sector.
Significantly, he reactivated a high level political dialogue and Port Authorities of the countries in the Americas have become much more active in collaborative activities. Finally, CIP is working to implement with Associate Member RightShip from Australia a greenhouse gas reduction programs for cargo ships while in port in Barbados, Mexico, and Colombia. In this edition of
Maritime Logistics Professional
, he weighs in on CIP's impact on ports, the supply chain, the environment and global trade.
How would you describe your management philosophy?
My management philosophy is one that is high-energy and results oriented, based on trust and constant, fluid communication among teams. I have been fortunate enough to be surrounded by fantastic people that make up the CIP Secretariat. I trust my staff and colleagues and encourage them to perform their duties, to the best of their abilities, each and every day. I encourage everyone to be copied on all emails, even if they are not involved in a particular project. This promotes a team-focused environment and a way for all team members to be familiar with the day-to-day functions of the office, even if they are not directly responsible for the task. While those directly involved are looking at the tree, those who are not can look at the forest. In fact, it is those who are not directly involved who can use fresh eyes to identify different perspectives, offer feedback, and identify areas needing improvement. I am invested in my staff's personal and professional development. I find that this strengthens personal relationships, encourages camaraderie and communication, and builds trust, which strengthens the team. I enjoy the aspects of my position as it is both rewarding and challenging as I work with governments and private sector organizations, promoting cooperation on a day-to-day basis. This requires constant building of relationships through positive, ongoing communication, hard work, and trust. We have developed and continue to cultivate relationships with Port Authorities, Associate Members, and Diplomatic Missions at the OAS. 
Please describe OAS, and your division's role in OAS.
The OAS is the premier political organization of the Western Hemisphere, akin to a United Nations for the Americas. The OAS has four pillars: Human Rights, Multidimensional Security, Political Affairs, and Integral Development. The CIP is located under the Executive Secretariat for Integral Development, and we are charged with promoting the development of a competitive, secure, and sustainable port sector. The CIP's six priority areas are: 1.) Port Competitiveness and Logistics; 2.) Port Security and Protection; 3.) Port Legislation and Policy; 4.) Sustainable Port Management and Environmental Protection; 5.) Inland Ports and Waterways; and 6.) Corporate Social Responsibility and Gender Equality. In these six priority areas, the CIP Secretariat promotes political dialogue at the highest level, training opportunities and capacity- building, project implementation and technical assistance and collaboration with the private sector. We achieve our objectives through cooperation and collaboration among public and private actors.
You interact directly with ports and port facilities in the Americas, but specifically, what is your 'audience' of the OAS membership?
First and foremost, the CIP's Members are the National Port Authorities of the 35 sovereign nations of the Americas (with the exception of Cuba). All countries in the Hemisphere except for the United States and Canada have a Federal Port Agency that, in one way or another, may be responsible for regulation, enforcement, planning, development, and/or granting concessions to private-sector firms to manage the port and/or terminals. Although these agencies may differ by name, they are the ranking port and maritime public agency in a particular country usually at the vice ministerial level. The United States is well represented in the CIP through the U.S. Department of Transportation's Maritime Administration and we also have a productive relationship with the U.S. Coast Guard. In addition, we welcome and encourage the participation of Associate Members, which are private firms, corporations, associations, other international organizations, Ministers of Transport, Port CEOs, Port Security Managers, and maritime service companies, among others. 
Port logistics are obviously crucial to world and regional trade, and the economies of sovereign nations. What do you consider to be the biggest impact to facilitating efficient trade, and why? 
When looking at Latin America, on one hand an important element is to improve port infrastructure. On the other hand, there is a need for legislation updates and modernization. The imminent Trade Facilitation Agreement (TFA) makes it essential for improved inter-agency coordination, particularly among customs agencies and port authorities. Another important element is technology. Though several of the region's countries have single-window systems for import and export activities, this is not available in all of the region's countries; however it is critical for improving trade. It is important to note that the single most important element to facilitate trade is improved logistics and more efficient multi-modal transportation of goods to the hinterland and to neighboring countries. Although many Latin American countries no longer are bound by significant quotas or tariffs, their logistical and transportation costs hinder effective trade within the region and with other parts of the world. 
Looking at regional ports and port facilities, what are the top challenges that they face in building and maintaining efficient operations?
One of the main challenges the region's ports face is having the necessary and adequate infrastructure to compete in the modern global arena. With the expanded Panama Canal now in operation and larger vessels now traversing Caribbean and Central American waters, ports around Latin America and the Caribbean are poised to reap benefits from these changes in global shipping patterns. Larger, newer ships require state-of-the-art port facilities, and the Port of Cartagena in Colombia and the Port of Kingston in Jamaica, for example, who see themselves as regional transshipment hubs, are investing heavily in modernized infrastructure to expand operations by accommodating larger ships and, in theory, larger volumes of trade. These two ports are not alone. Mexico is investing US $3.6 billion in 25 port infrastructure projects on the Pacific and Gulf/Atlantic coasts to handle over 500 million tons of cargo per year and become a logistical platform for value-added activities in the region. It is important to mention that more than 70 percent of this investment comes from the private sector, which has become a partner for development in most Latin American countries. 
Part of this challenge is that as ports in the region grow and aim to become more efficient, they must consider the intermodal connectivity required for their countries to benefit from improved port efficiency. It would not do anybody any good to receive the larger ships and unload them very efficiently if the cargo is going to sit at the port for a week. Thus, countries will need to overcome the intermodal transportation connectivity challenge. Colombia, for instance, is dredging and investing in port infrastructure on the Magdalena River, which crosses the country from north to south and provides access from both Cartagena and Barranquilla to the hinterland. Argentina and Uruguay are already using the Paraguay and Paraná rivers to carry products to their hinterlands as well as to Asunción in Paraguay and even Bolivia and Brazil. Mexico, lacking the necessary waterways, has invested in three inter-oceanic road and rail corridors, including dry ports midway to reroute cargo, which connect 20 shipping lines to 133 countries. 
Finally, as these ports move ahead with investments and modernization projects, they must take environmental protection and sustainable port operations into consideration. Today, shipping firms and cruise lines give considerable weight to being able to call on a 'green port.' For instance, Mr. Hector Bautista, Director General for the Port of Ensenada, Mexico, mentioned that after being certified as 'green' by EcoPorts, Ensenada began to receive more cruise and containership calls. In addition to Ensenada, there are only two Latin American Ports certified by Eco Ports: Lazaro Cardenas on the Mexican Pacific Coast and Santa Marta in Colombia. The region's ports are well aware of the challenges involved in complying with MARPOL and other international regulations and standards, but they are also well aware of the benefits of being considered a 'green port.'
(As published in the Q4 2016 edition of
Maritime Logistics Professional
)