James Adams
President and CEO, OMSA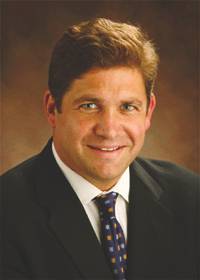 In August the Offshore Marine Services Association (OMSA) announced the appointment of James Adams as interim President and Chief Executive Officer. Adams' appointment followed the resignation of Ken Wells, who has led OMSA since 2004, and recently left the organization to pursue other opportunities. Otto Candies, III, the chairman of OMSA's board of directors stated in a release, "We are sorry to see Ken go as he has served our organization and members energetically for six years. We are excited that Jim Adams has joined us in an interim capacity while we conduct a national search for a new CEO to lead OMSA."
How did Adams come to be involved in the industry and OMSA?
Adams was most recently Vice President of Government Affairs for American Commercial Lines, Inc. (ACL). But he began in the industry as a Coast Guard officer. After a tour at sea he was assigned to Coast Guard Congressional Affairs where he served on the Navigation Sub Committee and worked to keep the regulatory framework up to speed with the advancing offshore industry. Adams worked with Robert J. Alario, a former OMSA president, to formulate new statutory guidelines and new tonnage requirements for offshore supply vessels.
"My work on the subcommittee led me to OMSA and its membership back in the early 90s," Adams said. "From there I went to work with American Commercial Lines and their government affairs and regulatory compliance programs."
Adams said his job at ACL prepared him for the work he is doing at OMSA today. "Working for ACL I got a member's look at how a well-run trade association operates," he said, referring to his involvement with both American Waterways Operators (AWO) and Waterways Council, Inc. (WCI). "AWO and WCI are good reference points for me." He described those organizations as being "member driven," meaning they have consistent member participation in meetings and working group forums and members feel they have ownership of the association and its policies. Ultimately, he said, members must be satisfied that the dollars they invest are delivering results.
"It was a mutual decision between the [OMSA] board and myself to help evaluate where the association is and where it needs to go," Adams said. "Clearly the challenges that confront the association are immediate. The board needs to take a deliberate look at where the association should be positioned and what skill set is needed to provide that leadership."
This interim position, Adams said, allows him to help the board evaluate those things.
What are OMSA's priorities & objectives during this transition?
Adams has a plan for going about this re-evaluation of OMSA's positioning. The first step, Adams said, is to talk to board members and as broad a cross section of OMSA's 250 members as possible to understand where they want the association to go.
Next, Adams will reach out to policy makers in the administration and in Congress. Adams said there are two areas where better communications can improve OMSA member business interests. One is clarity on the Jones Act.
"There has been a lot of misinformation over the summer," Adams said. "During the Macondo (Deepwater) spill we saw the Jones Act work effectively to allow both U.S. flag and foreign flag vessels work the response."
The other area needing clarity is further details from the government on what the moratorium means, when it will be lifted and what regulatory framework will be put into place to allow drilling and exploration to resume.
Adams will also strike up dialogue with other stakeholders in the broader maritime community and in the oil and gas industry "to understand where we can work together to accomplish mutual goals. I want to strengthen our ties with other maritime interests and with our members' customers in the oil and gas industry."
Finally, Adams will report his recommendations to the board in the next couple months. In the mean time, he said, "the plan is to maintain our current regulatory work to address changes to the STCW, the Maritime Labor Convention and a number of environmental regulations. I'm fortunate to have a very good staff at OMSA. Efforts to represent our staff in those areas will go forward."
How are OMSA and its members dealing with the challenges presented by the drilling moratorium and the attack on the Jones Act?
"We're in a very unfamiliar place," Adams said. "The uncertainty of the moratorium has created a very difficult business environment."
"We're a service industry and we serve a highly regulated industry. Since the Macondo event we've seen that regulatory framework shut down. Usually there's a regulatory process to follow. People need to make business plans. We are hoping and asking for that clarity."
When asked what the impact of the moratorium has been so far, Adam said "We're seeing a market contraction. Obviously, the moratorium will have a direct effect on our members."
"We're a secondary party to the drilling permitting process," he explained, but permitting has a direct impact on the contracts available to OMSA members. "It's idled numerous vessels in the gulf," he said, but "the direct impact has been delayed because of work on the Macondo response. But those vessels are coming off contracts now and without deepwater exploration and production and the deepwater rigs, there will be more vessels available to serve fewer jobs in shallow water."
Even on the continental shelf, Adams said he's seen the permit process slow measurably through the Bureau of Ocean Energy Management, Enforcement and Regulation (BOEMER), which is now tasked with processing drilling permits in place of the defunct Mineral Management Service (MMS). "There's not a moratorium [in shallow water], but regulatory clarity is need."
In response to attacks on the Jones Act that emerged during the spill response, Adams said the industry is presented with an opportunity. It is a chance, he said, to demonstrate to the administration and Congress that Jones Act vessels have successfully worked side by side with non Jones Act Vessels. Adams said there are many economic and national security reasons to support Jones Act.