Jaakko Eskola
President European Marine Equipment Council (EMEC) and Group Vice President, Ship Power, Wärtsilä Corporation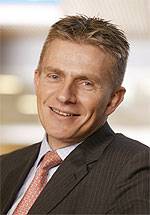 Mr. Eskola, what subjects currently have priority at EMEC?
Integrated and Harmonised Legislation: EMEC believes in promoting coherent public intervention at regional, national and international levels. EMEC is also ensuring that equipment suppliers and classification societies develop a fruitful cooperation on the implementation of Article 10 of the EU Class Regulation (Regulation (EC) 391/2009). The said provision requires classification societies (when acting as recognised organisations) to cooperate with a view to reach harmonisation of standards and define the conditions for the introduction of mutual recognition of certificates. The involvement of equipment suppliers in the process is indispensable since they are a main user of certification services provided by recognised organization although the beneficial effects are for the entire maritime industry and primarily the shipowners. EMEC is also promoting maritime governance and the need for an integration of maritime polices. Better governance of marine energy resources, reduction of green house gas emissions linked to maritime transport and investments in R&D can stimulate a green economy for the benefit of the European maritime community.
Greener, Safer and Innovative Technology: Safety is, by tradition, a key added value that the marine equipment industry delivers to the maritime community. As new and urgent issues emerge, such as climate change and energy efficiency, safety shall be maintained and developed as one of the cornerstones of EMEC's policy. It also permeates each and every aspect of the activity of the association. The role of marine equipment suppliers in the protection of the environment, the fight against climate change and promotion of clean and energy efficient technology has been clearly promoted by EMEC. The European equipment suppliers have understood and acknowledged their role as main pacemaker for the development of greener maritime technology.
IPRs and Trade: EMEC's priorities include the achievement of a level playing field and for fair competition between marine equipment industries at the global level.
Small and Medium Enterprises: creating awareness of the role of SME's in the marine equipment industry and the policy initiatives they need, to continue thriving at the global level.
How does EMEC see the current economic climate and does it allow the marine equipment suppliers to look optimistically into the future?
The current economic climate has been a real test for the European shipbuilding industry. Despite enormous pressure for businesses to ensure that the industry remains competitive after the passing storm, opportunities are presenting themselves which cannot go by unnoticed.
Recently the European equipment manufacturers have identified new customers worldwide in markets which would have been unthought-of in the previous years of exceptionally high growth.
EMEC is optimistic that the market situation will improve slowly, though in the mean time R&D, innovation and the identification of new markets needs to be supported through flexible business models. This will ensure that Europe can successfully compete with increasingly fierce global competition.
Historically our industry has anticipated market drivers. We have moved from being powered by sail to the combustion engine, facilitating an increasingly globalised economy. Now the time is ripe to again anticipate and ensure that we as a sector, especially in this current economic situation within the shipbuilding sector, can take advantage of the opportunities presenting themselves. This could be by exporting to new markets in the BRIC countries; increasing involvement in the offshore industry; or further developing 'green technology. The marine equipment suppliers can build on these chances and optimistically look to the future.
European marine equipment suppliers consider themselves to be technology leaders. In what areas do you see the Europeans ahead of the field?
Marine equipment manufacturers are considering with ever increasing attention the environmental aspects and sustainability of their activities, against the backdrop of the changes taking place in the economic scenario and the opportunities lying therein.
Talent, know-how, leadership and the capacity to develop economically and environmentally sustainable activities are important tools to cope with current and future challenges, and to meet society's rightful expectations.
Among the challenges lying ahead, greening of transport is one of particular relevance for the industry. The technological developments of 'green' marine equipment are already far advanced to meet the targets being set by regulators and it is here that we can consider ourselves as technology leader. However, let us not rest on our laurels because the industry can still and will go further to mitigate the impact of shipping on the environment.
The maritime network is responsible for the transportation of more than 90% of global trade. From all points of view, it is one of the most efficient transport networks available. Yet, there is still significant potential for further improvement, with major benefits for society at large. The European maritime equipment manufacturers are aware of the role they play and can play for the development of greener maritime technology and aim at making it stronger.
EMEC has produced a Green Ship Technology book which aims, from a neutral standpoint, to show what the industry can deliver in terms of technology to benefit the environmental impact of ships. The book also aims to increase awareness amongst the maritime community as well as the general public, of the contribution the marine equipment manufacturers can make to the greening of maritime transport as well as safety and reliability.
If technology already in existence could be integrated in today's ships they could become 15-20% greener and cleaner. With further demonstration of new technology, an increase of 33% in eco-friendliness could be achieved in the not too distant future.
What are for you indispensible key technologies that have to be kept in Europe?
There are two elements which are indispensible when discussing what should be kept in Europe. The first is abilities and the second is the technologies themselves.
Europe has to keep its key abilities of interdisciplinary thought and integrated understanding of complex technologies. Keeping the European know-how is essential to ensure that the industry remains competitive and always one step ahead of its competitors.
With regard to technologies, high-end, combustion, energy management and conversion, and green / clean technologies are considered indispensible and although it can be manufactured abroad the ideas behind them need to remain within Europe.
The toolbox to tackle future challenges is to protect know-how, capabilities and intellectual property rights. Protecting these elements guarantees the success of European marine equipment manufacturers and edge they have over their competitors.
Are suppliers at a disadvantage in terms of production costs compared with competitors in other continents?
This really depends on the size of the company. If a company is focused on blueprint production and necessary brainpower to meet its needs then it tends to go with the flow.
Larger companies can allocate production to different geographical areas often leaving the know-how within Europe. Therefore being able to benefit from advantageous production costs but keeping their intellectual property rights protected. Occasionally suppliers manufacture their products outside Europe but do their testing and assembly within thereby also benefitting from cheaper production and protected know-how.
How in your opinion can production costs be reduced for European marine equipment suppliers? Does EMEC have any general proposals on this?
Companies can promote a smart mix of design, production and assembly of their products by allocating them to geographical areas where they can benefit the most.
The EU supports the European shipbuilding industry e.g. via research programmes and the Class Regulation. What else does EMEC expect from Brussels?
EMEC always welcomes support from the European Commission which will benefit the maritime community as a whole.
EMEC is in favour of a coherent maritime industry and transport policy which rightfully fulfills societal expectations and environmental needs. EMEC appreciates that there are challenges which need to be overcome in this regard and are therefore ready to play an active role in providing solutions.
The current economic environment, the new challenges posed by environmental and energy policies and ever growing global competition make it necessary for the maritime industries to rely, to a certain extent, on a timely, effective and goal oriented intervention, aimed at supporting and promoting its competitiveness and capacity to innovate.
In this current economic climate and shifting spheres of conducting business the legislature needs to go with industry and learn to adapt to these changes, bearing in mind whatever new approach is adopted needs to overall coherent.
Against this background, it is EMEC's view that public intervention in the market, should it come from the EU or Member States, should foster durable and structural improvements in the way the European industry operates and compete in the global arena, making it able to meet widely shared policy goals in the general interest.
A combination of Legislative driven demand and market driven demand is important for public intervention. The legislative approach and also the market demand needs to mix public interest with easier access to state and EU resources. With this in mind, EMEC expects that all policies aimed at facilitating access to resources for research, development and innovation, achieving better ships performances (retrofitting), and developing and making available new technologies (particularly green technologies) shall be pursued through a constant dialogue with various European Commission Services.
As a practical example elements of the Motorways of the Sea could be launched with innovative technologies either retrofitted onto existing ships or deployed on newbuilds showcasing the achievements of the European maritime industry internationally.
Climate change and environmental protection will be one of the main subject areas at SMM 2010. In what technologies do the maritime industries have a pent-up demand?
Demand is generated in a two-fold approach. There is legislative generated and market driven demand. The Ballast Water Convention is an example of this legislative generated demand. Between now and 2016 there will be increased demand for ballast water treatment systems as a result of the convention.
Market driven demand can be generated by ship-owners thinking in the long term and not just for legislation. They wish to build something which goes above and beyond what is currently expected in order that their ships can operate at a premium. Sustainable thinking and entrepreneurial extrapolation will drive up the demand for greener, cleaner and safer marine equipment.
In what areas do you expect to see a further tightening of environmental and safety regulations, which will lead to innovation?
The main area where a further tightening of environmental and safety regulations will likely be seen is in relation to emissions: Sox, NOx and CO2. This will ultimately lead to smart operation of ships and decision support. The global economy will generate more demand which will require well managed and optimized supply systems, integrated infrastructure on shore and offshore, route optimization and the retrofitting of 'green technologies' on board existing vessels with the result of promoting innovation.
The global maritime environmental congress at SMM 2010 will be the first congress exclusively concerned with climate and environmental protection from the maritime point of view. What are the focuses of the EMEC contribution?
EMEC's contribution for GMEC will be a presentation given by the Chairman of the EMEC Working Group for Climate Change and Environment. Amongst other things the presentation will highlight EMEC's Green Ship Technology Book which looks at 'green technology' from a neutral standpoint.
We appreciate that the initiative is attempting to enlarge the SMM exhibition to shipping and creating networking opportunities under a green umbrella. However, we believe that the contribution and role of the marine equipment suppliers is not properly recognized. EMEC believes that any similar congress should not miss the opportunity to integrate properly in the organizing committee and programme marine equipment company representatives. Without their presence it would be like a ship without an engine, the absence of the real drivers of the green discussion.
GMEC is a good initiative to be improved and EMEC and the marine equipment industry are ready and willing to play an active role and cooperate with this congress in the future.
Marine equipment suppliers have become increasingly involved in the offshore sector since the boom in deep sea oil exploration and wind power plants at sea. What do you expect to see in this sector in the wake of the oil catastrophe in the Gulf of Mexico? What developments have to be prioritized?
Safety is something which always has to come first. The deeper you go the safer the technology has to be in order to mitigate the threat of manmade disasters. The spill in the Gulf of Mexico can only teach the global maritime community a lesson. That is to build upon the mistakes which have been made and ensure that the technology, process and practices for everybody involved is working at its optimum to make sure that this will not happen again. It is also important to promote the standardization of equipment which will allow it to be used on any ship in any situation regardless of who has built it.
Brussels, 30th of August 2010
The interview was conducted by Dr. Uwe Cardaun on behalf of Hamburg Messe