Winners Announced at IMarEST's Human-powered Submarine Races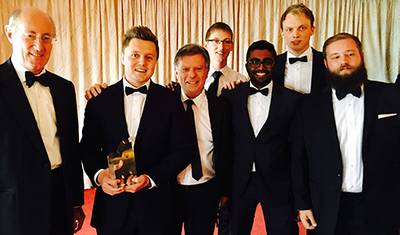 The IMarEST's European International Submarine Races 2016, held July 6-15th at QinetiQ's Ocean Basin in Gosport UK, has concluded with the University of Auckland team's Taniwha II submarine taking the winning trophy.
The team proved that the combination of innovation and attention to detail makes all the difference. Their biomimetic craft was driven to impressive, near record-breaking speeds (4.7 knots) by a robust biomimetic propulsion system and a novel fish-inspired hydrodynamically efficient tail which replaced the rudder usually found on submarines.
The team from Delft University of Technology were runners up with their WASUB VI. They also won the BAE Systems Agility & Endurance Prize, the Top Speed (Male) prize for reaching 7.3 knots and achieving the best performances on Race Days 1, 2 and 3. WASUB VI is a sleek submarine driven by counter-rotating propellers. The team showed that engineering excellence and a level head is what is required to play in the big leagues. As their pilot pushed their vessel well beyond its design envelope, their engineers redoubled their efforts to strengthen and streamline the submarine as the team strove toward the world speed record. In the end, physics prevailed and the record remained unbeaten, but this fine-tuned team have set the bar high for future eISR races.
The third place team, from the University of Washington, delivered in their submarine, What Sub Dawg, an impressive machine which only missed the top spot by the slimmest of margins. Careful engineering design, coupled with extensive testing, design optimization and pilot training produced the highest speed by a female pilot (4.6 knots).
Pilots are the sole source of propulsion in these races, driving the submarines by pedalling whilst wearing scuba gear in the fully submerged craft that they have designed and built (and continue to improve in their tank-side pits throughout the racing).
"This year, of the eighteen teams which began the competition in September, eleven managed to qualify for the racing events. Qualification involved meeting a rigorous set of technical and performance requirements which had to be documented in written, photographic and videographic formats. The over 140 students demonstrated a true passion for engineering and teamwork as they honed the performance of their own craft and helped each other to overcome the individual challenges that arose. It was fabulous to experience the really positive spirit which arose from amongst these gifted young people." William Megill, Race Director of eISR 2016 and Professor of Bionics at Rhine Waal University.
Jon Bayliss, head of maritime platforms at QinetiQ, said: "Having been a centre for maritime design and testing for decades, QinetiQ's Ocean Basin at Haslar is no stranger to innovation. However, the ingenuity on display at these events never fails to amaze us, and this year the standard has been exceptional. We are proud to invest in the next generation of engineers, by supporting events like this and providing opportunities for young people through graduate and apprenticeship programmes. Judging by the quality of these competition entries, the future of the industry is in very safe hands."
The participating university teams and their submarines were:
University of Auckland (NZ) – Taniwha 2
Technical University of Delft (NL) - Wasub 6
Rhine Waal University of Applied Sciences (DE) - Trichitala
École de Technologie Supérieure (Can) - Omer X
University of Waterloo (Can) - Amy
University of British Columbia (Can) - Skookumchuk 2
University of Michigan (USA) - SubTLE
University of Washington (USA) - What Sub Dawg
Texas A&M University (USA) - 12th Manta Ray
University of Bath (GB) - Salacia
University of Warwick (GB) - Godiva 2
"We were delighted to be able to organize this event for a third time," says David Loosley, Chief Executive of IMarEST. "The engineering aptitude, determination and enthusiasm of the students was truly outstanding. I'd like to thank the marvellous team at QinetiQ for hosting the races and supporting us throughout as a principal sponsor. I'd also like to thank our other sponsoring organizations - DE&S, Babcock Group, BMT Defence, and BAE Systems – for making the races possible and providing speakers for our Masterclasses and Careers Fair. Thank you to the team at Hilsea Lido for hosting our Careers Fair; to Senior Rates Mess, Fort Blockhouse for hosting the final dinner; to the team of Army divers who provided safety support; to our judges led by Vice Admiral Sir Robert Hill; to William Megill and Frank Mungo for their tireless efforts in making this event the huge success that it was and to all the teams for making the trip here and awing us with their abilities, zeal and creativity!"

• BAE Systems • British Columbia • David Loosley