Whittaker Becomes First Canadian Female Cruise Ship Captain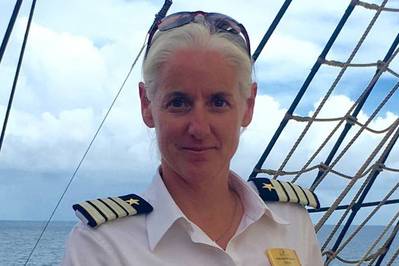 Kathryn Whittaker has been promoted to captain of Sea Cloud Cruises' Sea Cloud II, becoming the first female Canadian captain of a passenger cruise ship and the first ever first female to captain a vessel in Sea Cloud fleet.
Prior to being promoted to captain last month, Whittaker held the position of chief officer on the Sea Cloud II for six years. In that role she was responsible for the ship's maintenance and overall security. As captain, she will now head every department, and commands the mostly male nautical and technical officers.
"Growing up as the only girl with four older brothers prepared me well to work in this field. I had to prove myself on this ship and have over the years gained the respect of the crew," Whittaker said.
"When the opportunity arose for our crewing manager to promote Whittaker, who conveys dedication and love for her job, to captain the decision was easy," said Daniel Schäfer, managing director of Sea Cloud Cruises, a Hamburg operator of small, fine sailing cruises.
"In a very male dominated industry, we are thrilled to have a very qualified woman for the highest position on a ship," Schäfer added.
Whittaker's path to captainship is unconventional. Unlike many captains, her family doesn't consist of sailors, and her voyage didn't start at an early age in maritime academy. While at university in Toronto she took time off from school and worked on touring boats in Toronto Harbor for three years, and then made her way to Sea Cloud as a deck hand in 1996. This first position on a sailing ship sealed her fate, and began her journey into securing her captain's license.
Whittaker did most of her training privately and achieved her certifications by passing the required exams through various Canadian Maritime schools. Whittaker's hand-on experience was achieved on various sail training ships, including five years as captain of Bytown Brigantine's STV Fair Jeanne and small passenger sailing vessels in the British Virgin Islands, where she held various positions including chef, first mate and training captain. She then held the position of chief officer for two years with Canadian Sailing Expeditions.