APM Terminals Mumbai Inks Solar Power Purchase Deal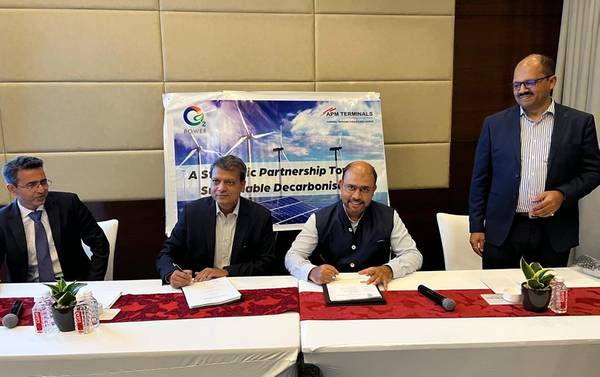 Already one of the most efficient terminals in India, Gateway Terminals India Pvt. Ltd. (GTI)—also known as APM Terminals Mumbai—has taken another step to further reduce its carbon emissions through a collaboration with O2 power to supply renewable electricity.
The terminal announced it has signed an agreement with O2 power to set up a captive solar power plant. The plant has a capacity to generate 22 million kWh of electricity annually and is expected to meet 80% of terminal's electricity requirements and reduce its carbon footprint by 44% (15,092 CO2t).
Sunay Mukerjee, COO of GTI, said, "I am delighted to ink this power purchase agreement with O2 Power. By signing this agreement, we reaffirm our commitment to the environment and community. The power agreement marks a significant step forward in our decarbonization journey."
Parag Sharma, CEO and Founder of O2 Power, said, "Partnering with GTI, part of APM Terminals, one of the biggest terminal companies in the globe, is a significant addition to our C&I portfolio. This intra-state open access structure, which allows us to supply captive power to GTI from our solar plants in Maharashtra, will empower the terminal to transform their supply-chain operations and turn them green and sustainable. At O2 Power, we are committed to furthering our country's Green Ports' ambition and will continue to help organizations with our tailormade green-energy solutions which meet the end-to-end requirements of the maritime industry."
APM Terminals Mumbai noted it has been implementing various initiatives to reduce its carbon footprints and is committed to meet the ambitions outlined in the Harit Sagar Guidelines. Globally, APM Terminals—a unit of Danish shipping company Maersk's Transport and Logistics division—has made a commitment to be fully net zero by 2040, and to reduce its total emissions by 70% by 2030 compared to 2020.