Royal Seal of Approval for Glasgow College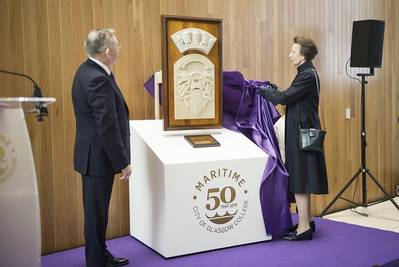 The Princess Royal visited City of Glasgow College's Riverside campus to mark 50 years of maritime education and training on the banks of the River Clyde.
Her Royal Highness was given a tour of the campus' technologically advanced facilities where she met with cadet students and staff from its Faculty of Nautical and STEM. She was also shown a letter written by 1st Earl Mountbatten of Burma, her great uncle, who officially opened the original Glasgow College of Nautical Studies and was introduced to two former students who met Lord Mountbatten that day in 1969.
Princess Anne's tour included experiencing Polar Ice Navigation techniques using the College's unique 360 degree simulation suite; a demonstration by former electrical engineering student, Dale Colley, who has designed a drone capable of monitoring water quality; and a presentation on life saving research which the College has carried out, in partnership with maritime industry specialists and shipping companies, to determine the rate of oxygen depletion in confined spaces in ships at sea.
The Princess Royal completed her visit by unveiling a unique commemorative stone bas-relief, crafted by students and staff, and bearing the college motto 'Let Learning Flourish'.