Port NOLA President Says Volume is Booming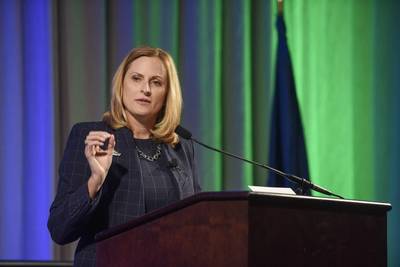 Port of New Orleans (Port NOLA) President and CEO, and New Orleans Public Belt Railroad Corporation (NOPB) CEO Brandy D. Christian highlighted record volumes and bold vision for the future in the 2019 State of the Port address.

Christian outlined key short- and long-term strategies to capitalize on current momentum and to create opportunities in the future. In the address titled "Opportunity Calls, We Answer," Christian attributed the successes to collaboration and partnerships, while emphasizing there is more work to be done.

"Because of your efforts, our collective efforts, your Port of New Orleans is thriving. But I am here to tell you we can achieve much more together," Christian said. "Opportunity is calling. Actually, opportunity is not just calling, it is banging at the door and demanding that we answer."

Christian announced continued momentum across all four business lines: cargo, rail, industrial real estate and cruise.

Port NOLA moved more containers in fiscal year 2019 than at any time in its history at its Napoleon Avenue Container Terminal – totaling 619,353 twenty-foot equivalent units (TEUs), up 12% from the previous year.

Port NOLA has now seen double-digit growth in total container volumes for two consecutive years, led by loaded import growth which was up 7.3% in fiscal year 2019.

Christian announced that this growth also led to Port NOLA attracting a new direct-Asia container service. MSC's Lone Star Express service will call weekly at Port NOLA later this month.

The new service further strengthens New Orleans' direct connectivity with Far East markets and offers more options to the Port's customers. This will be the second direct-Asia service via New Orleans in addition to CMA CGM's PEX 3 service.

Maersk and ZIM will both partner on the new service, which will appeal to resin producers and traders, furniture and other retail importers, as well as temperature sensitive goods – especially frozen poultry because of fast export transit times, such as 25 days from Busan, Korea and 32 days to Busan.

"Asia is our fastest-growing containerized trade lane, and we appreciate the commitment from MSC, Maersk and ZIM to Port NOLA and our shippers," said Christian.

To effectively manage growing container volumes, Port NOLA has embarked on a $100 million expansion plan that includes the order of four new 100-foot gauge container gantry cranes that can more efficiently work larger ships in the 8,000 to 9,500-TEU range.

To propel the growth and opportunity, Christian highlighted Port NOLA's intent to build a second container terminal downriver.

Port NOLA's cruise business also saw all-time high cruise volumes in fiscal year 2019 with 246 ship calls,1.2 million passenger movements and river cruise business up 15%. Port NOLA is on trend to surpass 1.4 million passenger movements in 2020.