New Orleans Intermodal TIGER Site Visited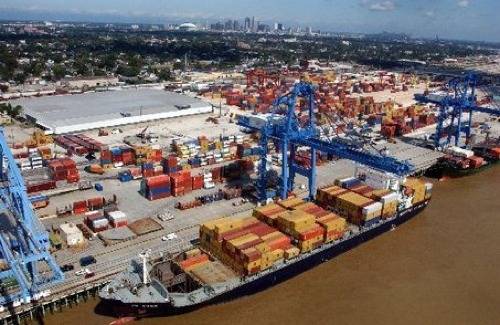 The U.S. Department of Transportation's (DOT) Deputy Maritime Administrator Paul "Chip" Jaenichen visited the Port of New Orleans to tour the site.
The site of planned infrastructure improvements was made possible through a US$16.7 million DOT TIGER (Transportation Investment Generating Economic Recovery) grant which was awarded in 2011. The 16-acre intermodal construction project will modernize and expand the port's rail terminal, greatly enhancing cargo efficiencies.
According to U.S. Transportation Secretary Ray LaHood, ports play a critical role in moving goods to consumers at home and helping businesses send their products abroad . "The improvements at the Port of New Orleans will help ensure its ability to compete in the global marketplace and contribute toward President Obama's goal of doubling exports by 2015."

The Port of New Orleans will use its grant to help build a modern freight rail terminal and cargo yard, allowing the port to more efficiently accommodate higher cargo volume. Currently, the existing rail tracks pose a significant physical barrier to container operations at the Port. Work will include removal of more than 20,500 feet of existing track and 14 turnouts which will be replaced with 7,800 track feet of heavy 115 lb. rail, installation of 430 track feet of at grade crossing panels, and the reinstallation of three new rail turnouts. The terminal is expected to be in use by December 2014.

"This project will help the region spur economic expansion, create jobs, and help to secure our place in the global economy," said Deputy Administrator Jaenichen. "Moving goods by water is not only cost effective but it also helps protect our environment by reducing carbon emissions."

Since 2009, the Department of Transportation has provided $357 million to improve infrastructure at 25 ports nationwide.