Milaha Rolls Out New Container Feeder Service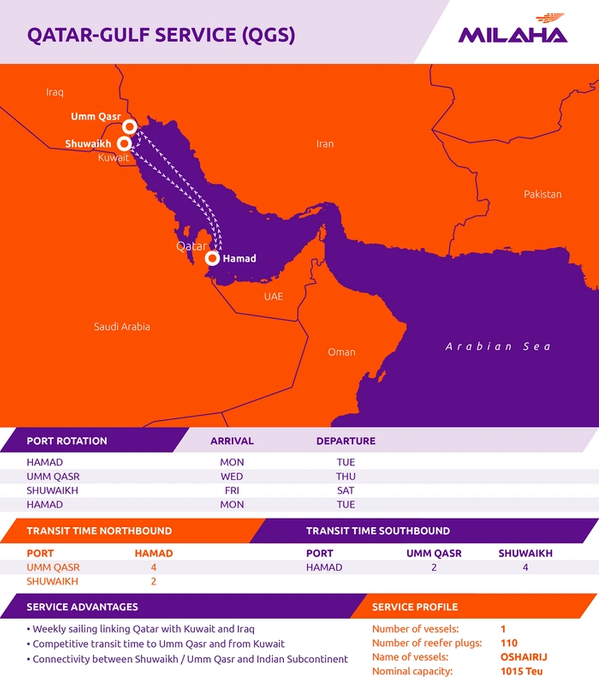 Qatar-based maritime transport and logistics conglomerate Milaha has launched a direct container feeder service between Qatar and Iraq.
The new service, which will be an expansion of the existing Qatar-Kuwait service that the company launched last year, will follow a Hamad Port-Umm Qasr (Iraq)-Shuwaikh (Kuwait)-Hamad Port rotation, and will be initially served by one vessel with a 1,015 TEU capacity and 110 reefer plugs.
The service will have a transit time of two days. The first vessel will depart from Hamad Port on May 7 and reach at Umm Qasr Port on May 9, 2018.
"There has been excellent demand on the Qatar-Kuwait service that we launched last year, and we have been looking at ways to further expand that service to give our Iraqi clients and partners more convenience through greater port coverage and reduced transit times," said Milaha president and CEO, Abdulrahman Essa Al-Mannai. "This new service will contribute to the reconstruction efforts in Iraq, and will also help boost the growing trade and economic relations between Qatar and Iraq."
Milaha said it continues to enhance its international presence and diverse portfolio of maritime and logistics services. Since last year, the company has expanded into several new shipping routes and accelerated deployment of new supply chain solutions across a number of countries. Milaha currently calls two ports in Oman (Sohar and Salalah), three ports in India (Nhava Sheva, Mundra, and Kandla), one port in Kuwait (Shuwaikh), one port in Pakistan (Karachi), one port in Sri Lanka (Colombo) and one port in Bangladesh (Chittagong).