CMA CGM Makes Inaugural Call at Port Tampa Bay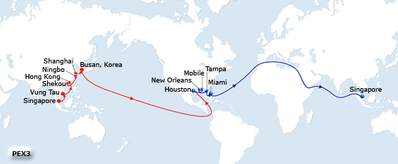 The CMA CGM Group, a world leader in shipping and logistics, has announced it made its first call at Port Tampa Bay today with the arrival of the 8,469-TEU (Twenty-Foot Equivalent Units) CMA CGM DALILA on the PEX3 service.
With the PEX3 service, CMA CGM reaffirms its commitment to Central Florida
Port Tampa Bay is the closest port to Florida's fastest growing region and its largest consumer market – the Tampa Bay/Orlando I-4 Corridor. Home to almost half of the state's population of more than 21 million residents, the I-4 corridor has the largest concentration of distribution centers in the state.
From this central location in the middle of the Florida peninsula, exporters and importers can serve the entire state and reach markets throughout the Southeast and beyond. With the CMA CGM Group's PEX3 service, they will now be connected to markets in Asia with a high-quality weekly service. The unparalleled 37-day transit time to Singapore will especially open up new opportunities for the region's fast-growing economy.
PEX3 Service
•Rotation: Singapore – Vung Tau – Hong Kong – Shekou – Ningbo – Shanghai – Busan – Panama Canal – Houston – Mobile – New Orleans – Tampa – Miami – Singapore
•12 vessels operated by the CMA CGM Group with capacities ranging from 6,350 TEUs to 8,488 TEUs
•Weekly departure
•Voyage duration: 84 days