New Intermodal for Fresh Produce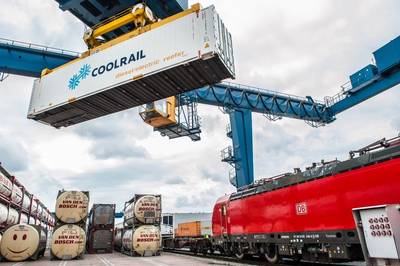 A new dedicated perishables reefer train link between Spain and the Netherlands opened on Moday (May 06, 2019) and could save up to thousands of trucks trips a year.

CoolRail, the new direct rail connection set up especially for fresh produce, will be transporting cargo between Valencia and Rotterdam three times a week.

While transporting products to the Netherlands takes just as long via the temperature-controlled train as road haulage, trains are far more sustainable – with a CO2 reduction of 70 to 90% compared to trucks.

CoolRail is an initiative of Euro Pool System, which provides logistics services and re-usable packaging to the fresh produce chain. The sustainable project is supported by parties from the retail, logistics and fruit and vegetables segments.

CoolRail can yield significant CO2 savings. Opting for rail transport rather than road haulage cuts the number of truck runs by 12,096 per year and leads to 22 million fewer road kilometres. This reduces the volume of CO2 released into the atmosphere by approximately 15,000 tonnes per year (equivalent to the annual savings of almost 6 large wind turbines).

From its launch on 6 May on, CoolRail will be used to transport 42 containers to the Netherlands and back in a single day – a round-way that is repeated 3 times a week and 48 weeks per year. "After extensive preparations and the first pilot trial, we will now be taking a major step towards the dramatic reduction of our carbon footprint when it comes to transporting fresh produce," says Gerjo Scheringa, CEO of Euro Pool Group.

A key motive for parties to become involved in the initiative was a desire to raise the sustainability of transport between Spain and the Netherlands. Spain is Northwest Europe's leading trading partner for the import of fresh fruit and vegetables like lettuce, tomatoes, cucumbers and oranges.

One of the companies involved in CoolRail from the start is Bakker Barendrecht, which developed this rail connection between Spain and the Netherlands in partnership with Euro Pool System. The CoolRail initiative is in line with the parties' ambition to raise sustainability throughout the fresh produce chain.