Hutchison Ports BEST Installs Solar Panels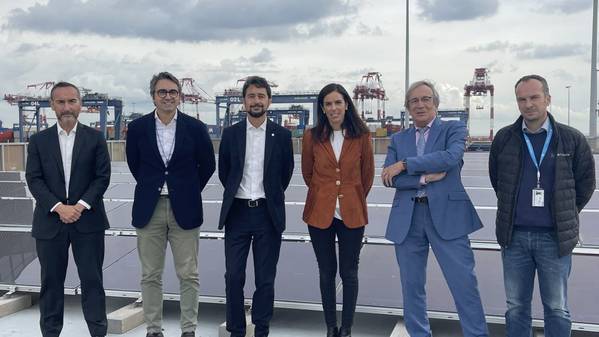 Hutchison Ports BEST terminal has installed 1,832 solar panels on almost half a hectare of its buildings. BEST has already contracted electricity with a 100% renewable origin guarantee at the beginning of 2022.
This is an auto-supply installation capable of generating 1.18 GWh of electricity, equivalent to the annual electricity consumption of about 200 homes. The installed power is almost 1 MWh (833.56 kWh). The company in charge of installing the panels is Solar Profit.
Estefanía Soler, head of sustainability at BEST, said, "These efforts contribute to further reducing the terminal's carbon footprint, with BEST's emissions being 65% lower than conventional manual terminals."
On Friday, November 18, BEST received a visit from a delegation from the Port of Barcelona, with Damià Calvet as the highest authority, to see the installation of the solar panels in situ. Calvet stated that "in the Port Community of Barcelona we are working together to promote the decarbonization of port activity. Achieving the goal of having a carbon neutral port is everyone's responsibility and actions such as this one by BEST are the way to achieve it."