Gondon Shipyard Expansion Underway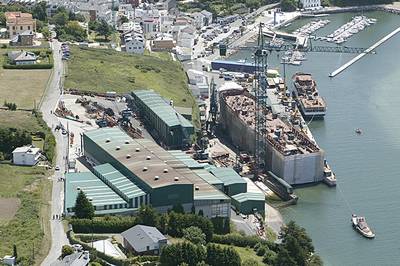 Spanish shipbuilder continues expansion and improvement process at several of its facilities targeting increased productivity
Gondan Shipyard announced it has completed a new stage of improvement and expansion at its facilities in Figueras, Barres and Castropol as part of an investment initiative aiming to bolster its competitiveness in the market by increasing production capacity and reducing construction times.
The shipyard said it completed the enlargement of the blocks prefabrication and steel works workshop at its Figueras facilities by 25 percent and 15 percent, respectively. This, added to an optimization of the production processes, will help lead to increased production capacity.
The manufacturing workshop has also been expanded by a 30 percent, enabling the addition of new fabrication and isometric piping welding posts, which will increase production capacity andimprove quality.
Moreover, a 300-square-meter two-storey multipurpose workshop has also been built in the outfitting area.
In Barres, the shipyard has acquired a 2,600-square meter workshop to be used for additional storage of heavy equipments, steel cutting and bending. In addition, a new steel cutting machine has been installed.
In the coming months, the company also plans to expand its facilities for the GRP workboats division, located in Castropol, near Vegadeo.
As a part of a vehicle fleet renewal plan, Gondan acquired an electric vehicle for the transport of materials and tools among its facilities without emissions and environmental impacts.