America may have only entered the offshore wind sector recently, but it is wasting no time in playing catch-up. The White House has set targets of 30 GW of offshore wind capacity by 2030 and 110 GW by 2050. The focus so far has centred on bottom-fixed installations, but the prospect of higher energy yields in deeper waters where the wind blows stronger and longer now beckon. The White House has also set a floating wind deployment target of 15 GW by 2035.
From a standing start, there are immense challenges in America's offshore wind development. Rich in oil and gas, renewables remained marginal until the Biden Administration took office. Now, offshore wind is a key focus as the US plays catch-up with wind developers in Europe and Asia.
Inflation and higher interest rates may be changing the economics on which developers base their investment decisions, but it has not shaken their ambitions.
The months ahead promise to yield a series of announcements relating to offshore wind developments. Permitting for close to 5 GW of projects is likely by the end of the year, and federal authorities plan to auction leases containing more than 15 GW in the Gulf of Mexico, the Central Atlantic and offshore Oregon.
A recent report produced by Intelatus Global Partners, an energy consultancy, revealed 70 US offshore wind projects involving the installation of around 78 GW of capacity between now and 2040. The Intelatus study reveals that no fewer than 32 projects, with total planned capacity of almost 30 GW, are expected to receive final investment decisions (FIDs) within the next five years. They include five demonstration sites on both coasts.
Floating wind, however, is still at an early stage. Five sites in federal waters off the Californian coast have recently been auctioned, with capacity estimates ranging from 4.5 GW, according to the Bureau of Energy Management (BOEM), to 8 GW, a developer estimate. Interest shown by European bidders was notable, with Avangrid, Copenhagen Investment Partners, Equinor, Hexicon, Iberdrola, and Ørsted all keen for a seat at the table.
The procedures required in the permitting process for floating installations – including site assessments, construction and operation plans, and technical and environmental reviews – are likely to take most of this decade. First power is unlikely before 2032.
Other floating sites on the BOEM's list, according to Intelatus data, include two deepwater locations in the Central Atlantic region; Coos Bay and Brookings off the coast of Oregon; and the Gulf of Maine's commercial lease within the next two years. These facilities are likely to have total capacity of more than 6 GW.
Although fixed-bottom wind farms in water depths of up to about 200 feet are the first priority, long lead times for floating facilities mean there is no time to lose. On a global basis, there are so far only four multi-turbine floating farms in operation – in Scotland, Norway, and Portugal. They are located in relatively shallow waters, with Equinor's 88MW Hywind Tampen at just less than 700 feet. Some of the deepest farms could eventually be sited in water depths up to 3,500 feet.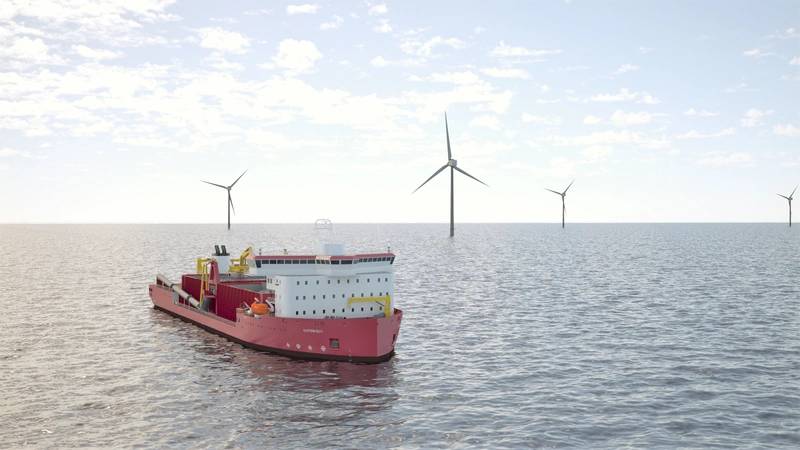 Great Lakes Dredge and Dock worked with Ulstein Design and Solutions B.V. to design and develop the first U.S.-flagged Jones Act compliant, inclined fallpipe vessel for subsea rock installation vessel to support America's offshore wind industry. The specialized vessel is being built at Philly Shipyard. (Images: Great Lakes Dredge and Dock)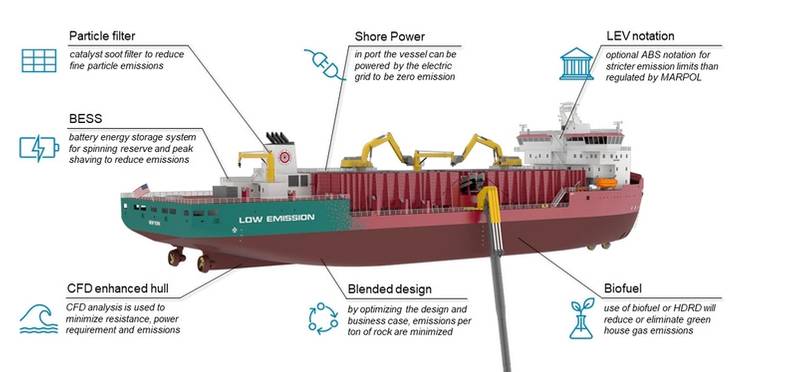 (Images: Great Lakes Dredge and Dock)
A handful of law firms already specialize in the complex nuances of the US Merchant Marine Act 1920 or the Jones Act as most people know it. It has far-reaching implications for near-shore and floating wind developments, both for US-based developers and service providers, and foreign companies looking for a slice of American action.
However, a serious shortage of installation vessels, support ships, and service vessel sector could become a major constraint on sector development, particularly with respect to the large, powerful and highly sophisticated subsea vessels required for deep water installations.
Philip Lewis, a specialist in offshore wind at Intelatus, points out that there are just two Jones Act-compliant offshore wind installation vessels under construction in American shipyards at present. One is the first offshore wind installation vessel, Charybdis, currently being built at Keppel AmFELS in Brownsville, Texas. As a jack-up, she will be suitable for fixed-bottom installations in water depths up to about 200 feet. A second ship, a rock installation vessel, is under construction to an Ulstein design at Philly Shipyard.
There are three SOVs under construction, including one recently ordered by Crest, a joint venture established in 2022 between Crowley and Denmark's Esvagt. The vessel, being built at Fincantieri Marine, will enter into a long-term charter with Germany's Siemens Gamesa Renewable Energy on delivery and will be deployed on the Dominion Energy Coastal Virginia Offshore Wind farm. There are also three Jones Act-compliant crew transfer vessels (CTVs) in operation and 14 under construction.
However, there are few ships, so far, either designed or under construction, for the deepwater floating wind sector although there are a few large anchor handlers and subsea construction vessels that could be available. And although the issues are different, there are also regulatory challenges on the Outer Continental Shelf further from shore.
According to Lewis, much depends on key words in the Jones Act such as 'pristine' and 'coastwise'. If the seabed has remained untouched and is in 'pristine' condition – in other words, without subsea constructions, pipelines, cables, etc – it is generally not covered by the Jones Act.
The term 'coastwise' refers to any vessel, equipment or installation component that may have touched the America coast. Therefore, components supplied from overseas in a foreign-owned and flagged vessel could be delivered directly to an offshore wind farm without contravening the rules.
Under Jones Act regulations, therefore, a foreign-flagged cable layer loaded with all the cable required to complete an offshore lay could be deployed off the US coast or could take on its first cable load in a US port. However, it could not return to port for more cable. It is understood, but not confirmed by lawyers, that the vessel might have to take on bunkers by way of a ship-to-ship transfer. These requirements are currently being challenged in US courts.
These are just some of the practical and regulatory challenges facing offshore wind developers.
The sector may be encountering serious headwinds in terms of rising development costs but it has also received a shot in the arm from new supportive legislation. In August, President Biden signed the Inflation Reduction Act which, some say, is transforming the backdrop for equipment suppliers. It supports them by providing a tax credit, known as an advance manufacturing production credit (AMPC), for US renewable components.
The legislation also encourages renewable energy developers to buy equipment from US suppliers by giving additional tax incentives provided they meet certain domestic content requirements. According to analysis by Scotland's Wood Mackenzie, offshore wind projects installed before 2025 must source 20% of all equipment in the US. This rises to 55% in 2027. Meanwhile, 100% of steel and iron construction materials must be made in the US.
"We assess the Act will greatly aid the expansion of renewables equipment manufacturing capacity," Wood Mac said in a briefing note, "though specific opportunities will vary from segment to segment."
Other fiscal measures provide further support. They include tax equity finance, a type of project financing which incorporates tax deductions and tax credits through a combination of cash flow from projects and federal tax benefits.
Then there is an amendment to the National Defense Authorization Act which requires crews working offshore on Outer Continental Shelf renewable energy projects either to match the flag of the vessel or to be citizens or permanent residents of the US. However, while this provision was designed to support seafarers and ensure no unfair labor competition, critics say that there are neither the vessels nor the seagoing personnel available in sufficient number to undertake the scale of offshore wind development envisaged. Heather Zichal, CEO of the American Clean Power Association, described the amendment as 'a gut punch to offshore wind projects'.
There is huge potential in the American offshore floating wind sector but many challenges lie ahead.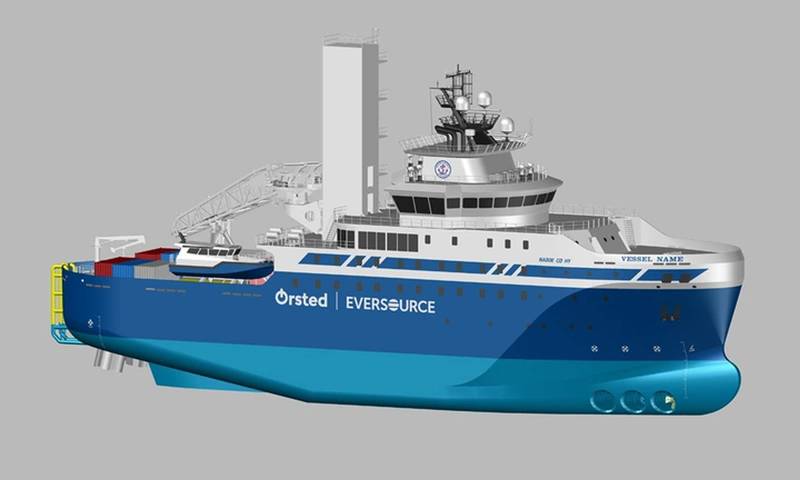 Edison Chouest Offshore is building and will operate the first-ever U.S.-flagged Jones Act-compliant SOV (Image: Edison Chouest Offshore)