First Cruise Ships Tap Shore Power at Port of San Diego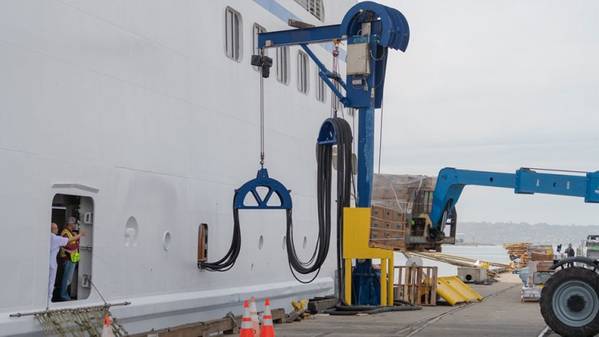 On January 13, two cruise ships plugged into the newly completed shore power expansion at the Port of San Diego cruise ship terminal for the first time – a doubling of the previous capacity.
The Disney Wonder and the Insignia were able to simultaneously use shore power rather than running their diesel engines while at berth. Previously, only one cruise vessel could plug in.
The recent addition of the new station along with the initial one installed in 2010 make it possible for the port to reduce harmful air pollutants such as Nitrous Oxides (NOx) and Diesel Particulate Matter (DPM) as well as greenhouse gas emissions by 90% while cruise ships are docked.
The port is also meeting California Air Resources Board (CARB) regulations that require essentially all cruise ships calling on California ports to use shore power beginning January 1, 2023.
The port said it invested $4.6 million to complete this project and worked with Cochrane Marine, LLC to purchase equipment and for construction management, coordinating, testing, and commissioning. San Diego County-based Baker Electric, Inc. installed Port-provided electrical equipment and removed, replaced, and terminated medium voltage cables.
Other efforts by the Port of San Diego to improve air quality include the installation of two all-electric Konecranes Gottwald Generation 6 Mobile Harbor Cranes – the first all-electric cranes to operate in North America – to replace the diesel crane at the Tenth Avenue Marine Terminal, and the construction of a shoreside charging station to support its new all-electric tugboat, which is slated to go into operation for Crowley this year.