Samsung Heavy Industries (SHI) held aTechnology Road Show in Europe as an official debut of its new design ship.
SHI held its "Samsung Technical Seminar in Athens" at the Marriott Hotel in Athens, Greece, and announcing details on a pair of new designs: an LNG carrier and a container ship.
SHI reports the event attracted 70 people from 35 companies, including shipowners such as Minerva, GasLog, Shell and Total.
"The technology road show is SHI's active marketing method for new design and innovative technologies and is the most effective way to increase contact with customers," said Jang Hae-ki, vice president at SHI, "cosidering favorable responses from ship owners, it can be a barometer to predict future orders."
---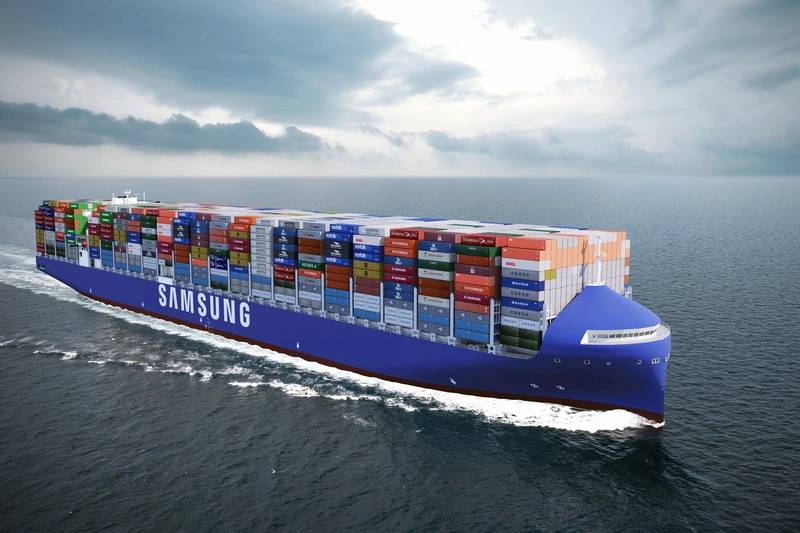 'Eco Container Ship' which SHI first unveiled at the Road Show.Image courtesy Samsung Heavy Industries
---
The '3 Cargo Tank LNGC' and 'Eco Container Ship'
SHI said the 3 Cargo Tank LNGC is designed to have increased efficiency, sporting three cargo tanks rather than the usual four. In addition, SHI said the boil-off rate has improved by more than 5% as an area where LNG touches the cargo tank is reduced, and maintenance costs are also greatly reduced thanks to a decrease in the number of equipment and parts for each cargo tank.
The design was jointly developed with GTT, the French company specialized in membrane cargo tanks, and has received an AiP from Lloyd's Register.
The 'Eco Container Ship' secured additional space to load 8% more containers by separating a ship's operating part and cabin area. In addition, it was designed to use methanol and ammonia as a fuel in the future.
In addition to the new ship designs, SHI promoted its eco-friendly ship technologies such as carbon capture storage, fuel cells, ammonia and hydrogen.
---

A commemorative photo after the Samsung Technology Road Show. Image courtesy Samsung Heavy Industries