Drydocks World , Maritime World Excellence Awards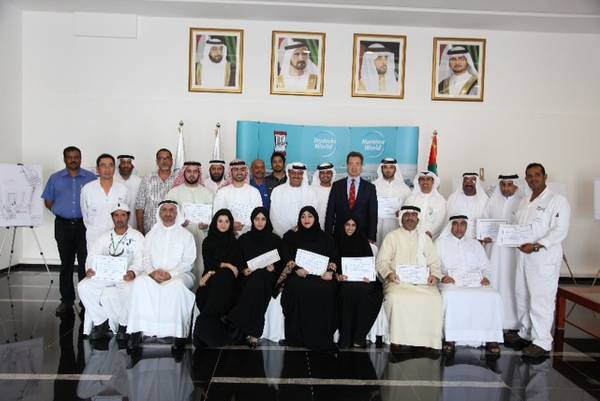 Drydocks World & Maritime World today announced the institution of an employee award scheme to recognize performance excellence among its staff.
The award which recognizes an employee's commitment & work ethic in embracing the challenges required in the transformation phase of the business is available to all employees including those at the most senior levels.

In announcing the establishment of the award & its first recipients, HE Khamis Juma Buamim, Chairman, Drydocks World & Maritime World said "Following the successful financial restructure of our business we have entered a phase of transformation. The success of this transformation is fully dependant on each & every one of our employees embracing & committing fully to the vision & strategy that will bring about the changes required for the future. We wish to provide recognition schemes which are widely publicized to encourage employees take up the gauntlet that has been thrown them-Embrace the 4Rs of excellence & achieve business transformation through continuous innovation. The first group of awardees recognizes those who have risen to the challenge with the objectives that have been provided to them & exemplified themselves in taking these forward. In time I am looking forward to making this award to a larger group of our people as we take our transformation forward." he added.

The first recipients of the newly instituted Certificate of Excellence are

1. Mohammad Ali Al Ghaiti-Jadaf Operations
2. Mohamed Ibrahim Al Jassmi-Shiplift Operations
3. Mohammed Mattar Al Jumairi-Marine Services
4. Mohammad Abdulrazaq Al Awadhi-Quality
5. Ayoub Abdulla Alayoubi-Jadaf Reservations
6. Maryam Sultan Mohd Alsahool-Training
7. Atif Sayed Alkazem-Procurement
8. Abdul Samad Merdas-Jadaf Govt. Relations
9. Ahmed Ali Mohammad Ahmed-Human Resources
10. Ayesha Sultan Alsuwaidi-DMC Sales & Marketing
11. Eng. Hassan Ali Hassan Musabeh-DMC/Jadaf Technical
12. Eng. Khalifa Hassan Ahmed- Engineering
13. Majid Mohammed Aljawali-Finance
14. Muna Mohamed Alsuwaidi-Finance
15. Ahmad Mohammad Al Mutaiwei-Corporate Communications
16. Yaqoob Essa Albalooshi-Jadaf Operations

Drydocks World & Maritime World is committed to the development of local nationals & currently 28% of its middle and upper management staff are nationals. With a focused & aggressive national recruitment and development program, the company is set to raise the number of nationals employed during 2013. This program is also coupled with a strong 'Future Leaders Program' which is geared to providing career opportunities to its existing local workforce.