Donjon Welcomes New Tug, Caitlin Ann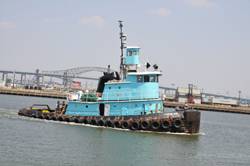 On August 1, 2011, Donjon added the 2400-HP-class tug Caitlin Ann to its growing fleet to support the company's dredging, marine salvage, bulk material transportation and marine demolition services.

The addition of the Caitlin Ann increases the Donjon towboat fleet to 14 total vessels ranging from 1200 to 7000 horsepower. In addition, Donjon also owns and operates five derrick barges with a maximum capacity of 1,000 tons, more than 40 deck and hopper barges, 3-4000-cubic yard split hull dump barges and numerous small vessels, floats and related marine craft.