KVH Debuts New VSAT Antenna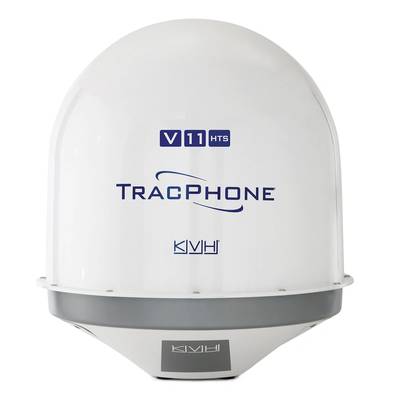 KVH introduced the TracPhone V11-HTS, and antenna that the company dubs 'the world's fastest' 1 meter Ku/C-band maritime VSAT antenna.
The V11-HTS is designed to deliver data speeds as fast as 20 Mbps down/3 Mbps, supporting the upward trend of information transport on commercial ships today for operations, Internet of Things (IoT) applications, and crew connectivity.
"With the TracPhone V11-HTS, we continue to bring innovative solutions to the maritime market, enabling commercial vessel operators to take advantage of the many benefits of VSAT, such as IoT applications and business efficiency, while yacht captains can offer guests onboard KVH's fastest connectivity at sea," says Martin Kits van Heyningen, chief executive officer of KVH. "From our advanced mini-VSAT Broadbandsm HTS network to our 24/7 tech support, our superior connectivity solution makes broadband at sea seamless."
Superyacht guests can now enjoy fast connectivity for streaming HD content and accessing Internet and social media platforms at sea.
The TracPhone V11-HTS is designed for KVH's mini-VSAT Broadband HTS network, which utilizes Intelsat's Flex Maritime service to deliver multi-layered Ku-band coverage, enabling vessels to see multiple HTS and wide beam satellites for maximum availability of broadband service; the network also uses additional capacity from SKY Perfect JSAT. In addition, the TracPhone V11-HTS utilizes Intelsat's global C-band capacity for expanded maritime coverage.
For commercial fleets, the TracPhone V11-HTS is also available as part of KVH's innovative AgilePlans, a subscription-based Connectivity as a Service program that includes, for one monthly fee: global connectivity; VSAT antenna with free installation in select ports; training and daily news content delivered via satellite; and delivery of chart and weather content.