Costa Condordia Salvage Update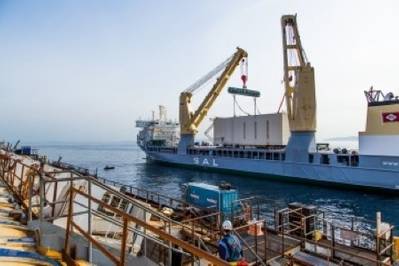 Costa Crociere & Titan-Micoperi representatives to present a progress report to the authorities for evaluation of the 'parbuckling project' & gain approval for wreck removal operations to commence in September 2013.
The report will be presented to the Commissioner for the Concordia Emergency Franco Gabrielli, the Observatory for Concordia Removal and the Mayor of Giglio at Civil Protection headquarters in Rome.

Once the parbuckling is completed, it will be essential to assess the conditions of the wreck and evaluate any technical adjustments required, particularly on the submerged starboard side which is currently inaccessible in that it rests upon two cliffs of rocks.
Following the completion of such assessment, it will be possible to more accurately determine the timing of the subsequent phases, that is refloating and towing.

The Concordia wreck removal is a unique and extremely complex technical-engineering operation, a naval salvage operation like no other in history, involving the best international expertise, advanced technologies and unprecedented financial. Activities continue with about 500 workers and 30 vessels at work 24/7. Protection of marine ecosystem, safety of workplace and rapidity of removal project completion are the key priorities of the project say Costa Crociere and Titan-Micoperi.