Certified Port Executive Program Welcomes New Members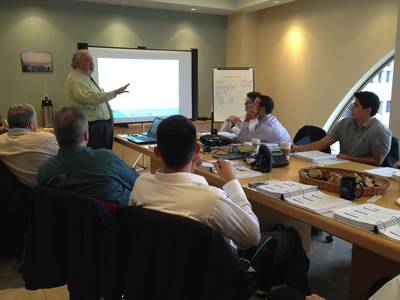 The CPE Certified Port Ececutive Program welcomed ten new graduates at the completion of their program in Vancouver, October 19th 2012.
The CPE Certified Port Executive Program creates a new learning pathway for professionals in the port world. Course topics include an overview of the worldwide intermodal transportation system; port and terminal operations; cargo management; safety and security; emergency planning and response; public and media relations; environmental management; and strategic, master, and business planning. Receiving certificates were;

Alan Smith, Direct Import Transportation Manager, Walmart Canada, Mississauga, ON
Mike Graham, CTO, Greater Victoria Harbour Authority, Victoria, BC
Antonio Canino, Manager of Operations and Environmental Affairs, Sultran Ltd, Calgary, AB
Rowland Howe, Director Godrich Port Management Corp, Goderich Port Management Corp., Goderich, ON
Jonathan Viel, Maintenance Planner, Pacific Coast Terminals, Port Moody, BC
Michael Inman, Gateway Performance Coordinator, Prince Rupert Port Authority, Prince Rupert, BC
Andy Cook, Manager, Planning and Design, Prince Rupert Port Authority, Prince Rupert, BC
Russell Ross, Councillor, Haisla Nation Council, Kitamaat, BC
Joanne Ross, Councillor, Haisla Nation Council, Kitamaat, BC
MIchael Carlson, Inspector, RCMP, New Surrey, BC

The new graduates join alumni of over 100 port, transportation and military personnel who have participated in the program since its creation in 2010.

This port management program is a five day course designed to provide participants with a professional education opportunity related to the operations of ports, vessels, marine terminals and the related transportation system. The program gives participants tools and knowledge to make their organization more effective and has drawn the attention of a broad cross section of executives from all over North America.

The Program was delivered by Captain Jeffrey Monroe, CPE, MM, MTM, a licensed master mariner with a Master's Degree in Transportation Management, who developed the 40 hour Certified Port Executive ProgramTM for MacDonnell and has trained over 300 senior civilian and military personnel throughout Canada including the Canadian National Defense Force Transportation Command.

Company President Ralston MacDonnell congratulated the graduates by saying, "It is our intention to maintain a program that will allow our graduates to have a positive impact on the competitiveness of the port and marine transportation system."
MacDonnell has trained more than 10,000 port employees throughout North America in maritime and port security, and hosts annual conferences to provide a gathering space and forum for sharing best practices in operations.

Future CPE courses will be held in the following cities;

Miami Dec 10-14 2012
Philadelphia Feb 4-8 2013
New Orleans Mar 11-15, 2013
Vancouver April 15-19, 2013
Anchorage April 22-26, 2013
• cargo management • environmental management • intermodal transportation system