Canadian Fleets, Seaway Invest $160 Mln for 2017 Season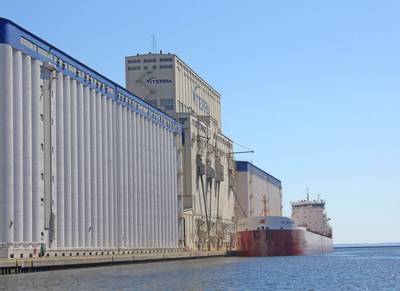 Canadian ship owners and the St. Lawrence Seaway have spent an estimated $160 million on repair and infrastructure projects this winter, boosting the economic fortunes of communities throughout the Great Lakes, the St. Lawrence and east coast, according to the Chamber of Marine Commerce.
Canadian ship owners have invested an estimated $70 million to maintain and upgrade their vessels during the winter months — an annual exercise that keeps their vessels in tip-top shape to safely and efficiently deliver goods for North American businesses.
The St. Lawrence Seaway Management Corporation also allocated $90 million for infrastructure modernization and maintenance projects in 2016-2017, the vast majority of which were carried out in the last few months in advance of the Seaway opening on March 20.
"Even in the off season, Canadian ship owners and the St. Lawrence Seaway spend millions of dollars with equipment suppliers and repair businesses, helping to sustain well-paying, highly skilled jobs in communities all over the Great Lakes and St. Lawrence region," said Bruce Burrows, President of the Chamber of Marine Commerce.
Vessel projects include engine and generator overhauls, steel and mechanical work, navigation equipment and system hardware and software upgrades, accommodation and safety equipment upgrades and various annual inspections. Several vessels also had five-year dry dock inspections, which are required by Transport Canada and survey all aspects of the ship below the waterline.
Winter lay-up and vessel repairs took place in Sarnia, Hamilton, Port Colborne, Thunder Bay, Windsor, Sault Ste. Marie, Nanticoke, Midland, Isle-aux-Coudres (Quebec), Montreal, Quebec City, Les Méchins (Quebec), Shelbourne (Nova Scotia) and Halifax (Nova Scotia).
Notable rehabilitation and upgrades by the St. Lawrence Seaway over the past few months include:
Reconstruction of the Upper Lock 1 Tie-up Wall in the Welland Canal
Rehabilitation of gates at locks 1 and 7 in Niagara and at Lock 7 in Maisonneuve
Bank Protection in the Welland Canal
Rehabilitation of lock and weir valves in both regions
Rehabilitation of the swing bridge in Beauharnois and of Bridge 3A in Niagara
Rehabilitation of Approach Walls and fendering at St-Lambert Lock
Deployment of Hands Free Mooring units in the Flight Locks in Niagara
Locks and bridges lighting upgrades
Terence Bowles, President and CEO of The St. Lawrence Seaway Management Corporation, said, "The St. Lawrence Seaway Management Corporation's ongoing investments in asset renewal and modernization ensure that our waterway continues to process ship transits safely, efficiently and reliably. With a system availability rate approaching 100 per cent over the last 10 years, the Corporation and its staff have done an excellent job in managing the Seaway's locks and channels, which form the core of a vital trade artery that connects the heartland of North America to markets across the globe."

Note: Shipowner information includes aggregated data from Algoma Central Corporation, CSL Group, Lower Lakes Towing, McAsphalt Marine Transportation, Ocean Group, Sterling Fuels and Transport Desgagnés. These companies operate 143 vessels, tugs and work boats in the Great Lakes, St. Lawrence, east and North coasts.

• Algoma Central Corporation • Bruce Burrows • CSL Group