CakeBoxx Technologies Introduces ThermoBoxx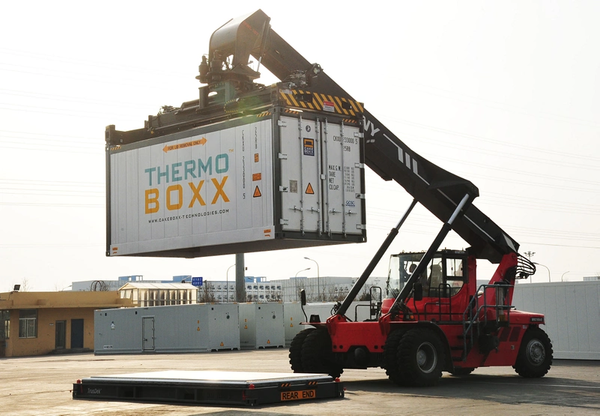 CakeBoxx Technologies has rolled out a new product line of refrigerated shipping containers: ThermoBoxx 20' Shipping Container with Lifted Lid and ThermoBoxx 20ft Container.

CakeBoxx Technologies designed these new models as a time saving, cost-effective solution for the movement of temperature-sensitive cargos that would normally be difficult to load and unload through conventional reefer container doors due to their size, shape or weight. The side and top loading capability is a key differentiation from conventional containers and provides a strong value proposition for speed of loading, product safety, security and loss prevention.
The ThermoBoxx line of refrigerated containers incorporates the company's two-piece deck and lid design and will initially be available in both 20' and 40' hi-cube versions. As with all CakeBoxx models, fully customized versions of the ThermoBoxx are expected to follow shortly, including both 45' and 53' hi-cube models. The new ThermoBoxx containers combine the industry standard cargo loading doors on the rear end with the removable CakeBoxx lid. This combination of loading options will enable shippers to load cargos from the top or side by removing the CakeBoxx lid (with full 360° access to the deck) or through the rear doors as with conventional reefer containers.

This container was specifically developed to address the growing need for environmental control that shippers require for electronic equipment, machinery, composites, defense materials, pharmaceuticals and similar products that cannot be adequately served by conventional reefer containers. Notably, the combination of both the removable CakeBoxx lid and the rear loading cargo doors offers a unique ability for shipping both temperature-sensitive and general cargo.
Unlike standard reefer containers, the CakeBoxx style two-piece reefer container can also be delivered with 'no doors' for customers with special transportation or storage security needs. The CakeBoxx two-piece doorless reefer container is the only container available with the US Government's SAFETY Act designation as Qualified Anti-Terrorism Technology (QATT). All CakeBoxx two-piece reefer containers are fully ISO compliant and CSC certified for global intermodal use.
CakeBoxx Technologies will be arranging demonstration events for ThermoBoxx in North America and Europe through 2020.