Apprentices Complete Training at MV WERFTEN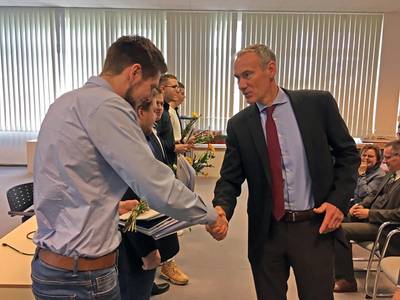 Celebrations in Wismar: Twelve apprentices – six construction mechanics, four plant mechanics and two manufacturing mechanics – from Wismar, Rostock and Stralsund received their certificates of completion today. The young men have just completed three and a half years of vocational training.
The ceremony was attended by representatives of the MV WERFTEN management team, training supervisors from each of the three locations, the works councils as well as representatives of the vocational schools and chambers of industry and commerce in Schwerin and Rostock. Two apprentices from Stralsund provided special cause for celebration this year as they were able to complete their training in less time, in two and a half years, and with excellent results.
The newly-qualified skilled workers will begin the next phase of their lives as early as February 1st. MV WERFTEN offered each apprentice a permanent employment contract.
There are currently 220 apprentices and 33 dual-system students studying at the shipbuilding group's three locations. When the new training year begins on 2 September 2019, MV WERFTEN will employ 67 apprentices and six dual-system students. This will be the first year that technical product designers and industrial clerks will be trained alongside industrial, construction and manufacturing mechanics and electronics technicians for industrial engineering and logistics.