AIS Antennas Help Owners Monitor Traffic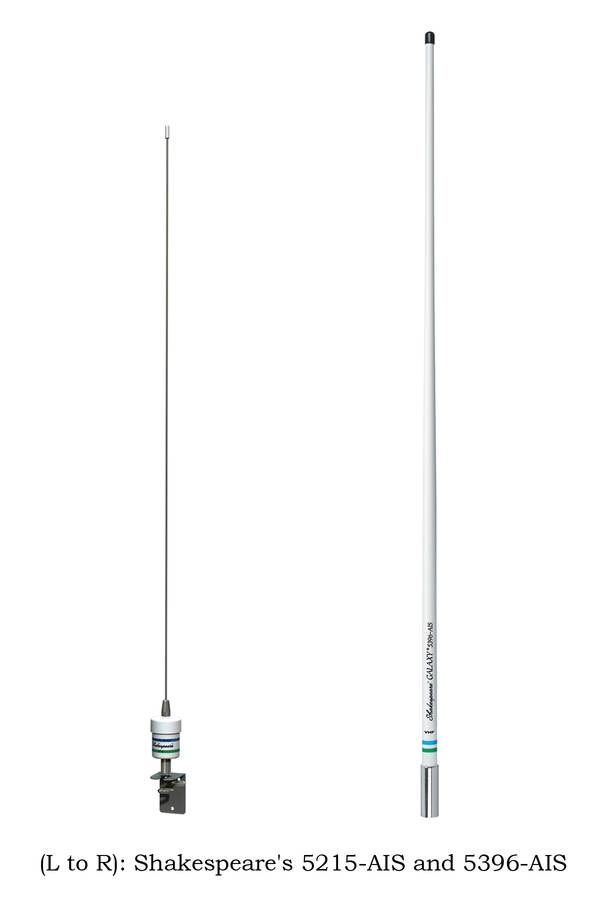 When navigating shipping lanes and busy harbors, the ability to monitor speed and direction of other vessels is particularly important. Automatic Identification System (AIS) technology, originating from the shipping industry, has been a great help to recreational boaters in these areas.
Shakespeare offers AIS antennas in various styles, specifically designed to meet the broader bandwidth requirements of popular AIS transceivers. The 4' Shakespeare Style 396-1-AIS features commercial-grade construction with brass and copper elements, a white, heavy-duty fiberglass radome, and an SO-239 connector at the base. U-bolts are included for mast mounting. Another 4' fiberglass model, the Galaxy 5396-AIS, has a beautiful high-gloss polyurethane finish that won't turn yellow in the sun. Its durable construction includes brass and copper elements and a 1"-14 thread stainless steel ferrule. Shakespeare supplies 20' of RG-8/X cable and a PL-259 connector for easy installation.
From its famous Squatty Body series, the lightweight, low-profile 3' 5215-AIS has a stainless steel whip that sailboat owners have come to favor. Designed for masthead mounting with a supplied stainless L-bracket, this slim antenna has an SO-239 connector at the base. Its tin-plated, copper wire coil is sealed against the elements for superior performance.

Simple installation and compact size characterize the 5250-AIS Skinny Mini. This 3' stainless steel whip utilizes a chrome-plated brass canister, which minimizes the de-tuning associated with plastic canisters. The antenna comes with 15' of RG-58 cable and a PL-259 connector. A mount with a center-hole such as Shakespeare styles 4187 or 5187 is required.